Travertine Installation Services for Palm Beach Residents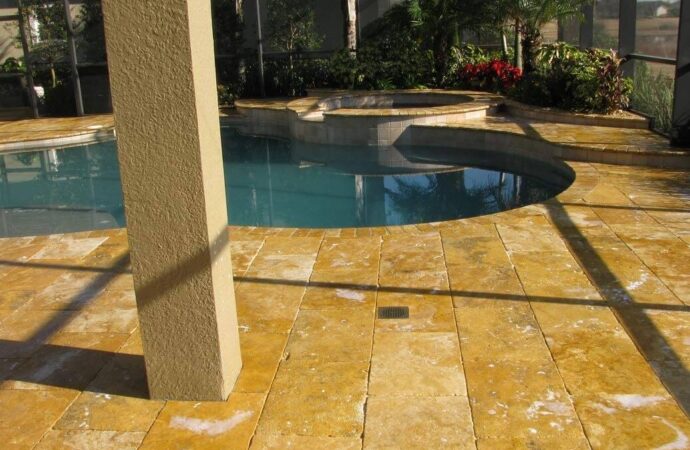 Travertine installation is the best option for extra non-slippery surfaces and heat resistance. You want a surface that keeps everyone safe and offers a good experience. This is without sacrificing aesthetics and the design you want to achieve. After all, the material offers multiple colors and styles. To get the desired result, contractors are capable of coming up with the right installation and planning around it. For it, the SoFlo Pool Decks and Pavers of Palm Beach team are whom you should approach.
We have been working with travertine since we started our business, and only improved over the years. The surface is amazing for pool decks as it prevents accidents and slips. You can have children playing all day or many guests and visitors without worries. This will also be thanks to our team's experience, as the installation is just as key as the material itself. Otherwise, you have a surface opposite to what it should offer you.
If you're worried about the color and textures, we solve this. We will listen to your needs and requests. Then, focus on finding the perfect option with this resurfacing alternative. This way, you won't have to choose one benefit over another or quit your design idea. That being said, we want you to know our team worries about every detail. Thus, you don't have to stress out or review all options and details alone. We will bring them to the table while planning for you and address each one so the result is more than you expected.
When having a pool, you will have to worry about the interior and exterior. It is important to have a pool deck that isn't hot when people walk around the pool and can offer a non-slippery experience that will prevent accidents and dangerous situations. This is why choosing your surface or even resurfacing material if this isn't the first time, needs to be done carefully and while considering all the pros and cons. Travertine installation is a very good option if you can find professionals that deliver a stunning and durable result. Our team at SoFlo Pool Decks and Pavers of Palm Beach is one of the top companies in the area that can deliver the best travertine surface you won't regret having, thanks to its durability and longevity. Of course, because of the aesthetically pleasing look, we can achieve it for you as well.
 Overall, travertine offers stunning designs, which is why most people decide to go for it nowadays. The look, colors, texture, and how you can have a different style based on how you work with it will always be open as long as professionals understand the functionality and can make it shine in your outdoor space.
Now, when considering the surface for your pool deck or deciding to change the existing one for personal reasons—the current one is an eyesore now, you want something different, it is heavily damaged, and so on—focus on the main benefits why you should choose travertine installation:
It is non-slippery, which brings safety to the entire space and will prevent any accidents. Considering that swimming pools are, of course, wet areas, people need to be careful; you will appreciate having extra absorption in your space.

It is heat resistant, meaning that regardless of the scorching sun and weather conditions, the surface will remain cold and won't make you burn your feet, and it will feel great to the touch.

Travertine is quite durable. Considering that pool decks are places where a lot of furniture, features, items, and more will be on the move due to the high volume of foot traffic and people, you will enjoy how durable it proves to be regardless of what is taking place over the surface, who is using the pool, and if you need to bring certain materials such as rocks and other items.

Its longevity is amazing. Thanks to the durability, you get a surface that will last for over ten years and won't get damaged easily.

Low maintenance as you don't have to spend a fortune every month to make sure the surface is clean, neat, and remains untouched with all the traffic.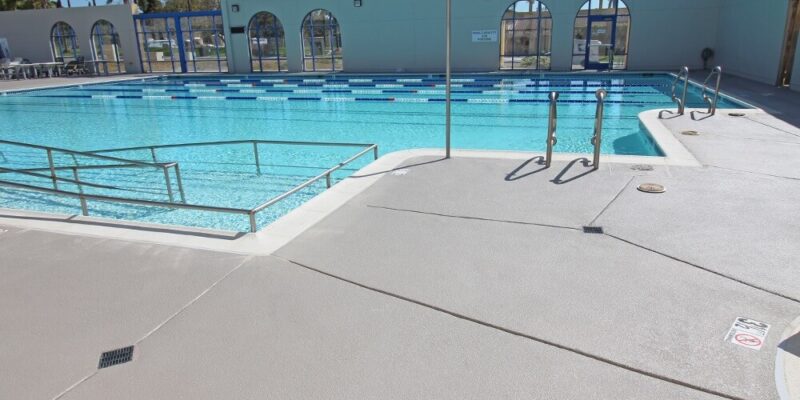 How to Have Your Travertine Installed
If you need help, our team at SoFlo Pool Decks and Pavers of Palm Beach will be more than happy to assist you through this entire process. We want to make sure you're confident and happy about your decision and that the result you get reflects how you decided to rely on this type of surface and us as professionals.
We have been working and installing travertine for over 12 years, and we're confident about our professionals' skills and experience as they have worked with both residential and commercial properties, and small and large projects that required a few days or even weeks.
We understand that pool decking is crucial, and although many people underestimate how much work it takes, we're always here to clarify why investing the right amount in this feature is needed.
You need to bring a safe surface and space where people can enjoy the pool, ensure you don't have to worry about repairs and much maintenance, and just have an outdoor space or pool area that is complete in terms of looks and style.
Our role is to ensure you get exactly what you want and need as we prioritize what is missing and what can solve the issues you may have. After all, we know you may either be reaching out to have travertine installed as your first surface or maybe apply it as a resurfacing option in order to change the old material and product you had.
Regardless of what it is, we are more than happy to help and make sure you get a result and design that will make you happy, and you won't regret it in the short and long term.
What Should You Know About Travertine?
Besides the benefits we have mentioned before, keep in mind that travertine doesn't perform well in freezing temperatures. Cracks are very likely to develop, and you don't want to treat yourself like this when other options are available and ready to be installed.
Of course, Palm Beach residents don't really have to worry about freezing temperatures, but it is a good consideration when storms or hurricanes take place since, although the material is water resistant as expected for a pool deck surface, you need to focus on the water's temperature in case future natural disasters take place.
Its porousness can also be an issue if your pool is located in an area with quite a lot of dirt since this will make your pool deck require a bit more maintenance than usual.
Finally, the good part about this surface option whatsoever is the fact that you can get it for low prices. The square foot ranges between $5 and $34, but finding the right company will help a lot to access high-quality products while guaranteeing good installation.
Our company and professionals are here to always use top-quality materials and tools, so you have a durable and long-lasting result. Needleless to say that it will be stunning as well.
We will make sure that the materials and the entire project are affordable, and we will do our best to adapt to your budget and what you can afford based on your pool deck's size and how much work the entire project will require.
Make sure to contact us for a free quote and to have your space assessed for the project.
Below is our list of additional services: