Commercial Pool Deck Resurfacing Services for Palm Beach Homes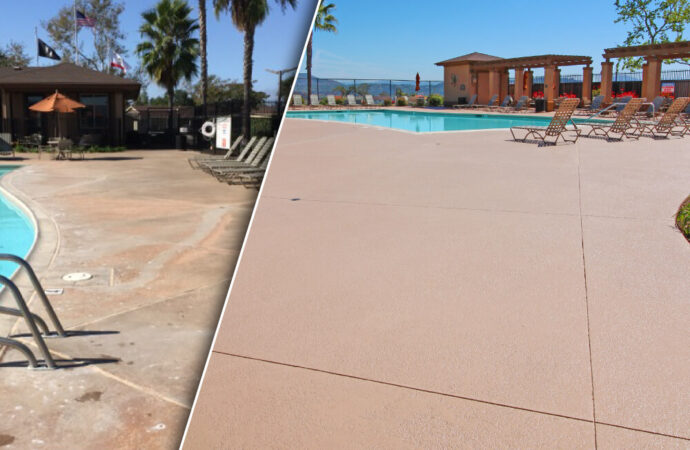 Enhancing your commercial property's outdoors is crucial. This includes working on each feature individually and focusing on what works and what needs to be repaired first. Among the options where you can start is having your commercial pool deck resurfacing done. This service and project alone can change your outdoor appearance greatly. You will also have a pool that can be easily enjoyed, and all surrounding spaces will be safe for children and people of all ages.
We can make this project a reality at SoFlo Pool Decks and Pavers of Palm Beach. We have worked with multiple commercial properties, including hotels, office buildings, theme parks, and more. Our team is qualified and experienced to ensure you get all the support you need. Working with us also means you get to experience professionals who help you on each step. In other words, we are there to handle the assessment and inspection. We will also design and plan how the resurfacing must be done to proceed with the project.
We will only start performing the service once you agree with it. For this, all the assessment is done free for an estimate. Once you consider us for your resurfacing, we will start with the entire process. This includes all the materials and top-quality products we work with. This way, we can guarantee a clean and stunning outcome thanks to the right materials, qualified contractors, and a design that fulfills your request. We will do all this and more for resurfacing the pool deck so you can relax and focus on the business.
Being able to find reliable contractors for commercial pool deck resurfacing can prove to be a challenge since most of them in the city is only focused on residential services and before you ask, yes, it does make a difference. Commercial properties and with them, pool decks, involve more work, time, and experience. If you want a result and new coating that will ensure durability, longevity, and great design, the best thing you can do is to find experienced contractors who actually understand how to work with all materials and bring an outstanding result for your commercial pool deck so everyone can enjoy the time and have a good experience while preventing accidents from taking place. At SoFlo Pool Decks and Pavers of Palm Beach, our mission is to ensure you are not only satisfied but also happy with the results we can achieve for you.
With over 15 years of experience in the industry, we're more than simply confident about delivering a good result. We know what we're capable of as we have been improving our services, and techniques, and making sure we only use top-quality materials while our contractors are able to handle them properly to ensure you have a good result right from the very start.
Although most people in Palm Beach contact us to request residential pool deck resurfacing over this commercial solution, we know how much commercial properties need them. Now, how do you know if you qualify as a commercial owner that needs our services or just a place that cannot be included in the residential service?
Simple. If you are a hotel, business or company, or any type of commercial property with a pool and pool deck installed, you can reach out to our team and we will be more than happy to help you in this process. Our goal is to make sure that every person and business in the city has access to reliable professionals and won't have to struggle perfectioning their pool decks' quality.
You don't have to be "a regular" property or space for us to serve you. Waterparks, hotels, motels, office buildings, even apartments and condos are included on the list of commercial areas where we know people will need our help with resurfacing.
We know all these places and more can have a pool deck to deal with, and we will be more than happy to assist you in the project and make sure you can:
Handle all repairs with a new coating.

Ensure you get a new design and neat style.

Have a non-slippery surface to keep everyone safe and provide the maximum comfort possible.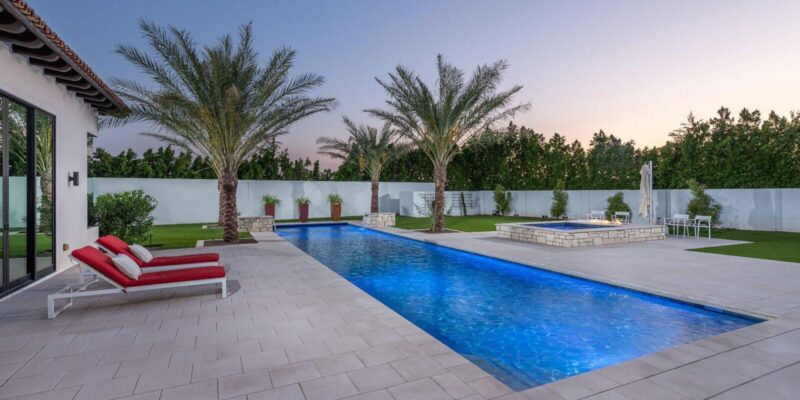 Does It Take Too Long to Finish Commercial Pool Deck Resurfacing?
Everything depends on the size of the deck, the design and style you want or need, and all the preparations needed before we are even able to begin the project.
There are many variables when trying have an average of time and costs when it comes to resurfacing since all of them end up depending on the specific place and property we're working with. However, if there's something we can guarantee is: it won't take too long.
We do our best to finish the job in a few days if the weather conditions allow it and if you are ready to close the pool deck for a few days. We will make sure you don't lose much and that it will be ready for use in no time. This is without compromising quality and durability just because we want to deliver a quick service.
We value everything over time, and although we care about deadlines as professionals, we will be honest about how long it will take as soon as we get all the information about your space, what needs to be done, and how we will need to approach this coating or resurfacing project for you.
Keep in mind that the type of resurfacing you choose and the style or design will be the main influence in all this. although the size of the pool deck itself will be an important variable, it is possible to have a surface done in a day or two if we are working with the simple resurfacing option.
However, if you are aiming for a specific design that requires more colors, different textures or patterns, the deadline needs to be extended to a few days so we are able to let every mix dry, have all the appliances and features installed, and make sure the pool deck is perfect and safe for use.
This is why we will navigate through this process with you and bring all the options to the table with their respective pros and cons so you can make a well-informed decision in all this. otherwise, you will have a hard time trying to figure out what would be better or not, especially if you are tight in time and need us to finish as soon as possible.
Can You Afford This Service?
Resurfacing can be cheaper than you expect as, just as we mentioned before, it all depends on your choices and needs.
At SoFlo Pool Decks and Pavers of Palm Beach, we will make sure to guide you through this commercial project so you can choose to take this step and have an affordable price that fits your budget. Before doing anything, remember that we will give you a free quote and for it, we will need some relevant information:
Location and size of your pool deck.

The type of design and style you want.

The repairs needed in the process.

If have a specific deadline to meet.
We will be more than happy to assess your space and determine a final cost based on the conversation we have with you about it. however, if you feel more comfortable reaching out via phone or email, feel free to do so. Answer our team's questions so we can serve you at our best ability and ensure you get all the answers to your questions as well.
Below is our list of additional services: