Pool Remodeling Services for Palm Beach Residents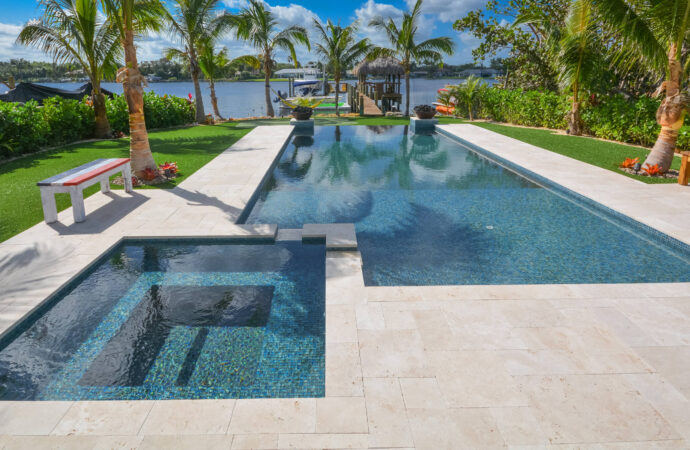 Wanting to change your pool design is natural. You may get bored with the design, or maybe there are some parts to improve. Sometimes, it may be about the multiple repairs you must perform to return it to its initial condition. A lot can happen for you to require pool remodeling. What is important to remember is how crucial finding reliable contractors is. Otherwise, it is easy to regret going over the project and your investment due to those performing poor service.
SoFlo Pool Decks and Pavers of Palm Beach is a top company that guarantees the best results. We will focus on the design and style you're looking for. Then, we plan and bring all the materials needed for the task. The goal is to ensure you have the desired aesthetics and features in your pool. However, we will prioritize longevity, safety, and durability in the process. Doing so will allow you to have a pool to enjoy without worries, which is worth the hassle. Of course, this is without sacrificing any aspects of the aesthetics you want for it.
What we do is make your idea come true. As tough as this is, it is possible for us thanks to the experts we have. They all have at least six years of experience and are ready to take on pool remodeling without hesitation. Additionally, we equip them with top-quality equipment, materials, and products. You will be in the best hands when deciding to work with us and have your pool redone.
When you first have your pool built and completely designed with all the details and fixtures or features in place, you know it is what you wanted as you see it with all the delight and happiness in your heart. However, as years go by, you may change the idea of the design and how you want it. Taste and preferences change, and some needs arise as well, leading to needing pool remodeling, so you are satisfied and happy with your pool again. At SoFlo Pool Decks and Pavers of Palm Beach, our team will bring all the experience and skills to your existing door so you can have a remodeling project without worrying about the results and quality.
If you need this remodeling service due to all the damage in your pool, the need to change certain features, and maybe deal with repairs the most, we're open to the challenge, and willing t help you regardless of the main reason behind this request.
Our job is to make sure we go over the design process, help you make decisions regarding the materials and products used, the colors, textures, and more, and work on explaining how the project will take place to guarantee your satisfaction in the end.
Pool remodeling involves a lot of steps and options. You don't always need what your friend, family member, or maybe another neighbor or commercial property owner did; you have to think about your needs and what changes you want to bring to your pool alone.
One of the main options for remodeling is pool deck resurfacing. This helps you bring a brand-new style and design to your outdoor space and the surrounding area of the pool, guaranteeing that you can have a safe and stunning place where you and others can spend their time and enjoy it.
Pool deck resurfacing is usually considered when there's damage in your pool area. If you have cracks, some faded areas, or maybe the current surface doesn't go well with your taste and preferences now, it can be changed by pouring a new coat, getting a new finish with the same material and type of surface, or working around the different options.
Concrete, brick pavers, spray deck, travertine, and tiles are the most common options, and your choice should depend based on how much you can afford it and the style you want to obtain along with durability.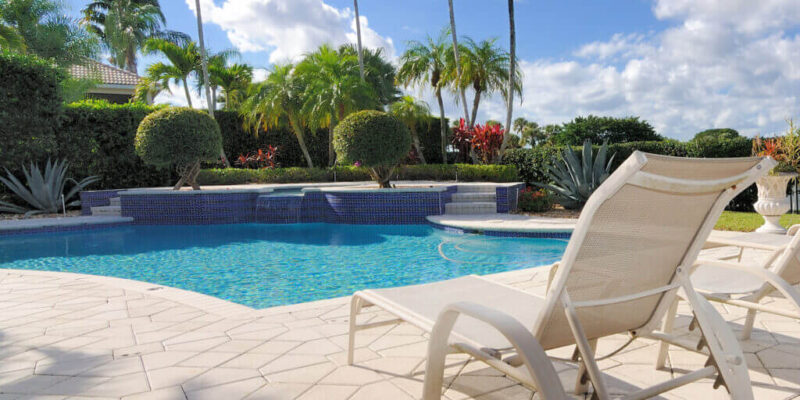 Choose the Most Suitable for You
Pool remodeling also involves bringing and adding new features. However, the resurfacing, coping, and staining options will be the ones taking the spotlight when working on this project.
After all, resurfacing is what brings a different look to the entire area and all the solutions to the repair need you are dealing with. We will make sure that the new surface you chose for the deck is neat, clean, durable, and stunning, which will complete the entire look of the space.
This is why we mentioned the different options earlier. Among all of them, concrete tends to be the most common and popular due to the styles and designs that can be obtained with it based on the professional's skills and experience in working with the material and its installation.
Since concrete can be washed and stained to guarantee its good looks, homeowners are in love with them due to the simple maintenance needed. However, other options should be considered either if you have a residential or commercial property:
This option can bring a natural and affordable look to the pool, and you won't have to worry about heat or the usually slippery surface. It is quite a good option to prevent accidents and get everything you need around a pool.
Also, it can look smooth and polished, and you will have a modern and contemporary look that will bring a different feel thanks to the different color choices you have to choose from.
This product is the most affordable on the list and can bring a new look to your pool in no time. The cover-up coat will be sprayed in less time than your regular materials and resurfacing options; it is affordable and comes in different textures and colors to choose from.
They are known for being stunning as they bring elegant and stylish designs that make people have visitors and clients excited about spending time in the pool and enjoying the day.
It has multiple colors, and you can have different results based on how the pavers are installed and used. Repairs are very simple to handle and won't be costly in most cases.
Other Pool Remodeling Options
Pool coping and diamond brite can be included in the things our team at SoFlo Pool Decks and Pavers of Palm Beach can do for you. The first option is about working on the outline of your pool. To be more specific, in the connection between the shell and the surface of your pool deck. You will get a chance to have this installed since, besides bringing a different style, it will guarantee more durability and prevent several damages in your pool, and all the water that usually gets to the edges won't go back to the drains installed.
Meanwhile, diamond brite is a pool finish that enhances the interior's durability and longevity. You have a shiny finish that will bring comfort when walking on the surface of the pool.
The best part is that since it is a product considered a modified polymer cement, you get a solution that will be more of a one-time investment. You get to have the color of your pool and its surface last longer, and you won't have to deal with how chemicals and other components affect the walls of the pool inside.
Make sure to ask for these options, or feel free to allow us to bring more recommendations as needed for your pool remodeling project. We will be more than happy to assist you and provide an estimate for you.
Below is our list of additional services: