FREE Pool Deck Resurfacing Quote for Palm Beach Residents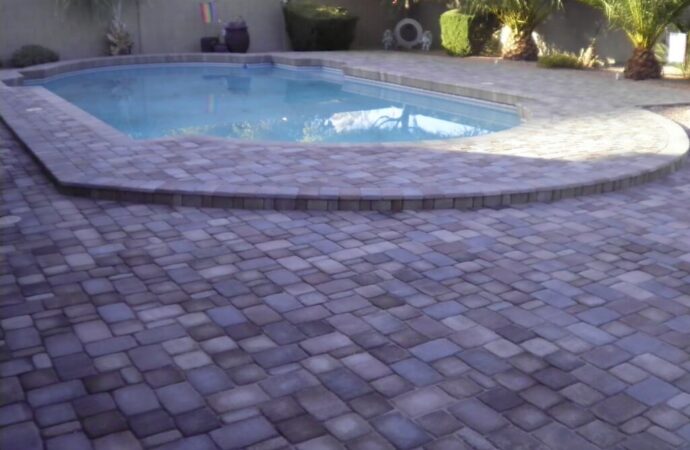 SoFlo Pool Decks and Pavers of Palm Beach has over 15 years of experience. We have helped with residential and commercial pool deck resurfacing during this time. While doing so, we have continuously expanded our solutions and services offered. As w started with brick pavers and eurotile for deck resurfacing, we didn't stick to those only. Spray deck, eurotile, and more. We are here to bring the top options so you can have variety and find the one that suits you best. This includes having you focus on safety and durability but also aesthetics and price.
We don't want you to always rely on expensive materials and surfaces. Instead, we have options that can adapt to your budget and ensure you get the desired result. For this, we have partnered with amazing manufacturers and factories. They all provided us with the best materials and allowed us to bring innovations. Spray deck is the newest one among them, as our team knows how to work with it quite well and has the products and equipment for it.
That being said, how can you have our team work on your pool deck? You will need to take the first step of contacting us. After you reach out, we will handle all the steps. We visit your place, assess the pool area, and give you recommendations and suggestions. If you already know the service and surface you want, let us know immediately, and we will get to work.
If you have a new project for pool deck resurfacing or just need to do a thing or two to your existing pool and deck, feel free to rely on our team at SoFlo Pool Decks and Pavers of Palm Beach. We're a company with over 15 years of experience and always growing to improve our services and the results we can achieve and deliver to you. We want to make sure you're happy with the safety and aesthetics provided by the pool deck, which is why we do our best to:
Use top-quality materials to guarantee longevity and durability.

Make sure all our experts are qualified and experienced in dealing with any of the elements and working on the different services we offer.

Assess your needs and preferences closely so we don't miss the chance to satisfy you in every possible way.

Use the latest materials that are yet affordable so you can stay within your budget.
Keep in mind we're a company that is here to help you and bring your vision to life. That being said, you need to take the first step and we will be happy to take the lead from there while you make all decisions and make changes based on what you expect from this process.
Most homeowners and business owners that contact us have a hard time deciding how they want us to approach their needs since they don't even understand them well themselves. However, we're also here for this.
Our help and role don't begin where we are working in your pool deck or pool area. It starts when we're able to offer information, details, and facts that will allow us to make good decisions.
We don't want you to have a hard time trying to decide what's better or not when we can provide guidance and support through the entire process. Therefore, allow us to be there for you and bring a solution and plan that will save you time and money.
How We Make Sure That You're Happy
---
We will make sure to have a good plan and design for your pool deck, be it for actual resurfacing, remodeling, repairs, or even working on a brand-new surface that will be mostly replaced or enhanced with some services and techniques. In this way, you will be able to have a good idea of the final result and give us the green light before we're even able to touch your deck.
Now, keep in mind that our quote and service will be ten times better if we are allowed to have a look at your deck and surface. This will open the option to understand everything that needs to be done, set the plan based on your standards and preferences, and offer a quote that will usually be the final price for your project.
We want you to be satisfied, and happy, and you don't have to spend a fortune on each of your projects, so make sure you give us as much information as possible and we will take it from there by bringing our experience and qualifications to the play.
Below is our list of additional services: