Pool Deck Renovation Services for Palm Beach Residents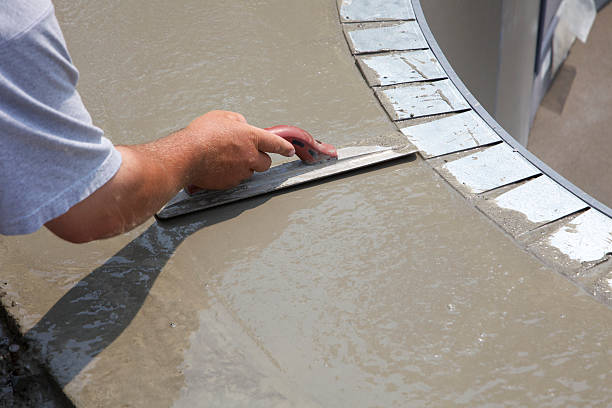 Pool deck renovation is always a good option when tired of the old design. Or when you have some damage and repairs to deal with. The key to reviewing this project is ensuring you work with qualified contractors. At SoFlo Pool Decks and Pavers of Palm Beach, we are confident about our experience, skills, and the renovation we offer.
We can give you a full plan and design to suit your needs and preferences. But for it, we need to know about your pool deck and you. What is its current condition? Do you have any design or style in mind? What's your budget for this renovation? Would you like our team to bring recommendations? Or would you prefer it if we focus on your specific request?
This process can take a lot of time when you consider the multiple options and how you need to approach them. Decision-making, just like the renovation itself, is what ends up taking the most when you plan the design.
However, we are here to support you, making the process even more enjoyable. You will have the renovation done in no time as well. All this without you having to sacrifice quality and aesthetics.
That being said, where do we start when we help you with renovations? We inspect your pool deck and listen to your request.
Pool Deck Renovation Made Easy
---
Our contractors will always take the time to assess your pool deck. You can come to us and request a specific renovation. However, we still need to know how your deck is now. This way, we can draw a specific plan and show it to you. It will specify the different steps, how much the renovation will cost, and how our team will proceed with the project.
We will redefine your pool experience and focus on what you want the most. But while we are working on the design, we will consider your needs that you may not know.
For instance, repairs and some additions may be needed. We will point them out and ensure you understand why they must be handled first. Once this is done, we focus on the design and style you want to get.
For the colors, textures, features, designs, and more, we will be there to have some recommendations. You can always come to us and let us know if you have some inspiration and examples. As soon as we see them, we will let you know if it is possible. If not, we will find an alternative and variable so you can be happy with the renovation.
In cases when you need some support in choosing what to do, our contractors will design the deck for you or give you ideas. We know how to work with small- and large-scale projects, and this includes working on the designing process, so you have a neat, aesthetically pleasing pool deck.
All the options are available to us. Elegant yet traditional design. Maybe a unique and classy option or just a comfortable and simple pool deck. We can bring it all together and give you a quote for it.
What Are The Best Ideas for renovating the Pool Deck?
---
Ideas? Many. We can offer you the main options for residential and commercial owners. This way, you can choose from them or create a new design and customize it to your liking.
One of the top options requested by our company is brick pavers. This relies on working on the resurfacing and using the pavers for the entire surface.
Although expensive compared to other resurfacing options, they can bring a stunning and unique look. Also, they are quite easy to repair, and when sealed perfectly, maintenance is easy and not really often.
Just like pavers, concrete is a favorite. It can be easily maintained and the different styles and designs you can get are all attractive. Most people think about concrete with the poured option. However, stamped and broom-finished concrete exists as well. They are unique and quite durable for your space.
You can choose different types depending on the final design and style you're looking for. For instance, stamped concrete can help you get the same style as bricks or tiles but for a lower price. The broom-finished option is closer to a classic and traditional surface.
The colors, textures, and final appearance can all be customized. Thus, we personally like it and recommend it to everyone open to using concrete and resealing it every 3 to 5 years.
Finally, travertine and eurotile are top options that aren't known in the market. However, they offer quite a good durability and aesthetics.
Eurotile can help you imitate multiple surfaces and bring a good renovation to the pool deck. Meanwhile, travertine is durable and long-lasting for a lower price.
Is Renovation All About Resurfacing?
---
Not at all. You will realize that discussing pool deck renovation usually leads to resurfacing it. Nevertheless, the entire design, addition, and anything new you decide to include in the deck is part of the renovation.
Thus, you can expect our team to work with full service and design. We will include the resurfacing, lighting, work with the pool when needed and more. If you want to include some features and add-ons, such as fountains or maybe some hardscape in the deck, we can also make it possible.
It is all about your preferences and what you are looking for. If you aren't sure about what to do or when it is too much, we lend you a hand in this.
Contact us today and have our SoFlo Pool Decks and Pavers of Palm Beach team work on your design. We will detail every step and include everything you want. You can rest assured that the renovation will last and be exactly what you want.
Call or email us. Or feel free to use our contact form to get more information. We would love to schedule a visit for a free estimate!
Below is our list of additional services: