Pool Deck Resurfacing for North Palm Beach Residents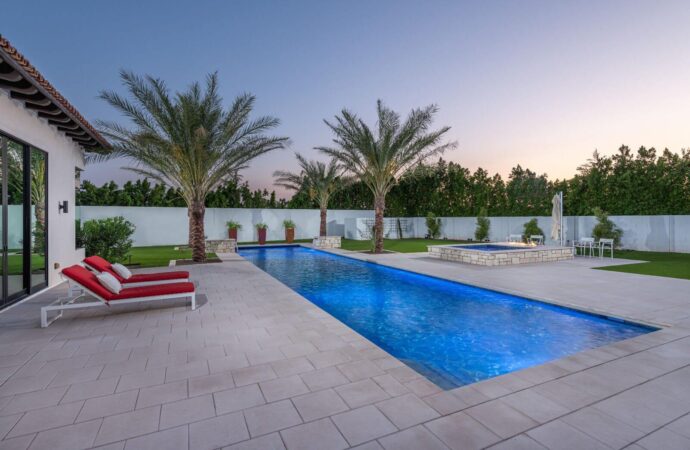 The city of the most stunning pools. This is what we think about North Palm Beach at SoFlo Pool Decks and Pavers of Palm Beach. As a company that has been in business for over 15 years, we can tell you the city is full of amazing outdoors and pools. This is all due to how much we have assisted property owners in achieving such results. How do we do it? By offering everything around the pool deck resurfacing, repairs, lighting, and more.
We wanted to make a difference in how companies in the industry approach clients. Although it is a business, few remember what matters the most. This is why we wanted to focus on what you need and want, especially about a pool and its deck. With so many details such as durability, longevity, and aesthetics to consider, it's easy to get overwhelmed. At least, what we do or where we start is in helping you decide on your resurfacing.
Our team will discuss your project and inspect the pool deck for this. We perform the service if you like your current style, yet it needs some retouching. But if you are looking for a new design and maybe something more durable, we come in and make recommendations. We can assure you that every option in our company is also top-quality. Thus, you won't have to worry about getting a surface that meets your expectation and guarantees that your investment and expense are worth it.
Being able to get access to qualified pool deck resurfacing professionals in North Palm Beach has proven to be a challenge due to the many options available in terms of companies and experts offering their services. Sadly, not all of them can deliver top results and are only trying to get the most out of the people that trust them.
Our team at SoFlo Pool Decks and Pavers of Palm Beach can lend you a hand or two to ensure you are in the hands of reliable experts who have at least seven years of experience in the industry besides resurfacing itself, we're able to provide different services and solutions that focus on installing new features or just helping with the current state of your pool deck in other ways.
We have been operating for over 15 years, and we know that many homeowners and commercial owners in the city are trying to find services that cover all repairs, maintenance, and needs around pool decks so they can rest assured that the surface will be ready and stunning for whenever it needs to be used.
One thing that worries most people is durability and longevity. We are aware that some pool decks seem to last very few years when they are built or have been resurfaced before. This is usually because the materials used for the project were of poor quality, or because the experts who handled the installation or resurfacing didn't actually know how to do it properly.
There are many variables for poor results, but what we care about in this case is reassuring you that you will have access to great services in your city so you won't have to worry about how aesthetically pleasing it is, and how long it will last regardless of traffic volume.
We worry about durability and longevity the most, so we want to make sure every pool deck and the result we can deliver is at the top of the game even before considering the aesthetics crucial in the entire design and service.
How We Help You with Your Needs
---
Besides your regular pool deck resurfacing service, our team can bring all the assistance you need for eurotile, spray deck, diamond brite installation, and much more.
We can work with either new or old decks that need some repairs and maintenance, while our team can bring the service for installation and specific surfaces for your pool area. Although resurfacing is only part of the repairs and different results options when you already have a deck, we can provide services focused on the different needs around the pool deck and how you need a new one, maybe the deck built for the first time, and much more.
We can also bring additional service most contractors and professionals in this niche ignore. These include: pool lighting, pool coping, pool remodeling, and installations of different materials and elements to bring a non-slippery and durable surface without issues and at an affordable price you can negotiate with our team.
Allow us to be the ones making a different with the 10+ services we can offer you in the city.
Below is our list of additional services: