Pool Deck Resurfacing for Palm Springs Residents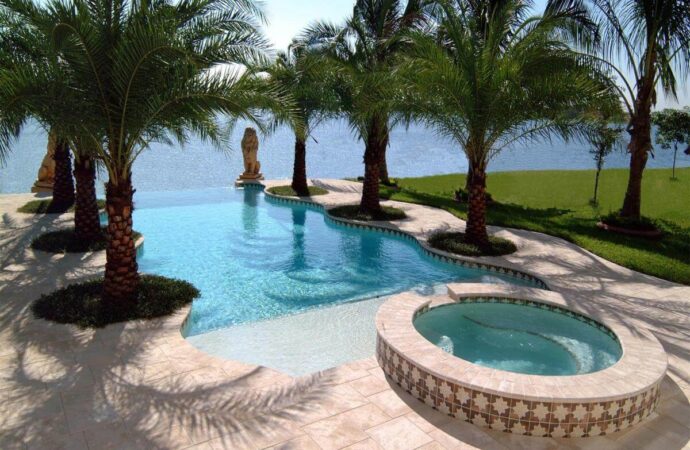 A safe and stunning pool area is what everyone should aim for. However, most people get distracted by beauty and aesthetics when designing and building their pools. As a result, accidents are quite common and often take place in commercial pools. At SoFlo Pool Decks and Pavers of Palm Beach, what we do for you is guarantee your commercial pool deck resurfacing is properly done. How does this help with your pool in general? Simple. A good surface should be non-slippery, heat resistant, and still beautiful. Thus, you get a pool deck that can meet all safety standards without sacrificing the design that most pool owners think they must give up on.
Thanks to our contractors, we make this possible for all businesses and commercial places in Palm Springs. All of them have over five years of experience. Additionally, they have our support in providing the best equipment and materials. After all, top quality and safe results or pool decks start with what you use for them. That being said, our pool deck resurfacing options are safe and optimal for any pool area in the city.
What will make you choose one surface or type over the other? When working with us, you must consider the design you want to get. For instance, when installed, brick pavers don't look the same as travertine. Also, it is crucial to establish a budget and if your pool deck is on actual commercial property. If you are a homeowner, you must know we can also support your needs accordingly.
Pool deck resurfacing, remodeling, or just working with your outdoor feature and surface will require a lot of work and time. If you want the best results and ensure you don't have to go through the process again due to poor services and materials, work hard to find reliable contractors and professionals in Palm Springs. Our team at SoFlo Pool Decks and Pavers of Palm Beach can bring you all the assistance and support you need for your project and we will make sure you're happy with the result as well as satisfied.
We work hard to ensure that all results are clean and that either homeowners or business owners can enjoy their pools and spend time outdoors without worrying about people slipping, cracks, or any damage in the deck that could lead to accidents.
Resurfacing is not usually considered by pool owners, but it will be key if your pool deck is quite old or if it has been damaged due to use or poor installation and construction over the years. Poor maintenance is also a frequent reason behind needing resurfacing. However, if you are going for the service for a more aesthetical reason such as just bringing a new style and achieving a new result, we are more than happy to help.
Resurfacing doesn't have to be about repairs and providing a new coat of durability, as important as this is. We know some homeowners—in particular—want to add a new color or maybe got tired of the current style. In this case, we will guide you through the process so you can have a stunning result that won't make you have a pool deck that feels more like an eyesore.
In the process of working on the pool and making sure it is stunning, we will ensure it is a non-slippery surface and that you can get all the performance expected from the deck.
We Enhance Your Outdoors & Pool Area
If you're focused on aesthetics more than the idea of repairing your pool and deck, we are more than happy to comply and help you in this journey.
Unlike other experts in Palm Springs, we don't mind working with lighting and the pools themselves instead of the pool deck. Instead, we are always excited to get to work with those features as this directly enhance your outdoor space's beauty and bring a new feeling for you and others in the space.
Our services are available for all residents and businesses in the city that need their pool decks dealt with and new additions and features for the pools themselves. We take on any small or large job so you are covered in every possible way and can have professionals working on the actual services you need and want, while delivering top results thanks to using top quality materials and having experts who understand how to work with them.
Contact us for any of our 10+ services and let us know how we can help you with your pool deck or pool alone.
Below is our list of additional services: