Pool Acid Wash Services for Palm Beach Residents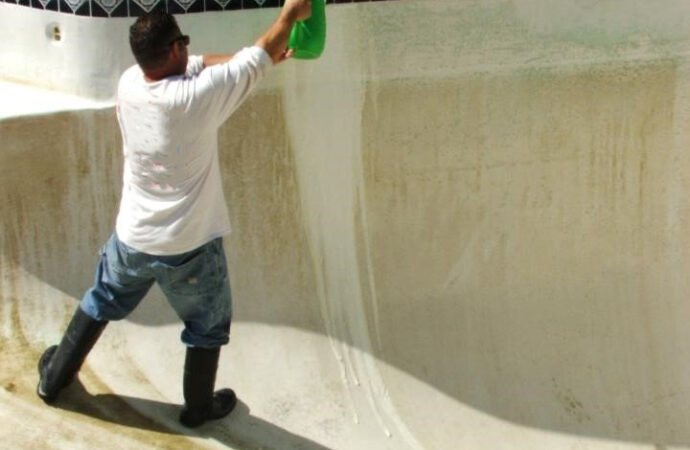 Keeping your pool clean is just part of the routine. Ideally, you want to perform maintenance and ensure you're emptying your pool when needed. This way, you avoid any build-up and mold in your surface and spaces. Now, that's what it should be like, but most of the time, pool owners have problems following the routine. At SoFlo Pool Decks and Pavers of Palm Beach, we can lend you a hand to solve the issue. We will perform any periodical maintenance or help you with pool acid wash if you already have grime and build-up to remove.
Just no one can do this process of using acid. You need to plan it and ensure you know how much your pool needs. Otherwise, the surface will be tacky and even damaged while using the chemicals.
Our responsibility is to determine how much treatment your pool requires. This way, we can set a plan and work around the damage and grime on the surface. Considering the acid spraying and chemicals are done with the right equipment, we will regulate it and ensure it is covered. But when it comes to actually removing stains or grime, we need to do it manually. This is done by one or more of our cleaners with a brush so we can scrub all the build-up.
Once we finish the process, we will ensure your pool is back to normal. Now, pool acid wash isn't something you always require. Certain pools need it to solve damage and build-up that doesn't come off easily with regular cleaning and maintenance. Hence, you must use more advanced methods to penetrate the dirt and grime. For instance, you want to wash your pool with the method when dealing with a thick layer of sediment at the bottom.
Is Pool Acid Wash Expensive for Your Feature?
---
Everything varies in price, depending on how much grime and build-up are in your pool. However, the service isn't expensive.
You can have your pool acid washed for as low as $160, and this is for a pool that isn't as dirty. For some with all the sediment at the bottom or that haven't been taken care of for a while, the price only rises another $100. However, it guarantees your pool is fully clean and ready for use.
The pool size will also influence the price. You can follow the previous range or average for a 400 to 500-square-foot pool. Larger than that, it will be higher.
Much is involved when estimating the service and how much you need to pay. In our case, we consider the size and time of the year. Your pool's location is not as relevant to us as with other companies since we work with residential and commercial pools equally. Thus, you don't have to worry about having limitations with the acid wash in this aspect.
The only limitation lies in where we can perform the service. We can perform the service if your pool has a plaster or pebble surface. But the acid will only damage the surface of fiberglass, vinyl, acrylic, or if it is painted. This is because the latter materials are not resistant to the hydrochloric acid and muriatic acid used in the process.
When to Perform Acid Wash or Pool Cleaning
---
We make it simple if you have difficulty deciding what's right or not. If your pool is made of any previous materials or surfaced with them, you want to avoid the acid at all costs. Then, opt for pool cleaning with proper equipment and products that won't damage your finish.
With this in mind, you need to know pool cleaning isn't the same as acid washing. For the latter, you have to completely drain the pool. This way, we can apply the chemicals, brush the grime and build-up, and ensure nothing remains in the water when using the pool.
Washing your pool with acid involves having us remove a slim layer of your surface. Thus, you have to consider the condition of the surface and how much it can stand cleaning. Of course, we will help you determine this before we even start our acid wash.
That being said, pool cleaning doesn't involve draining the pool. Also, you can expect to go over the dirt and some grime without extra steps.
In our company, we can provide this service as well as requested. We scrub all sides, remove leaves and dirt, and clean or replace the cartridges.
Once done with it, we test all the chemical levels and focus on adjusting the different systems. By the time we finish, you will have the pool operating perfectly.
In the case of the pool acid wash, the process is similar. We will drain it, brush the surface without the chemicals, then apply them. Brush again to remove all the grime and build-up, and focus on cleaning so you can fill up the pool again. We also check the chemical levels and ensure the systems are operating well while the pool remains clean from now on.
Get Access to the Best Professionals in the City
---
We are here to ensure you have all the support and assistance to perform this service. The acid wash can be tricky and a challenge. You must mix the chemicals properly without bringing risks to the place and yourself. Thus, you can rest assured our team can be there to prevent any problems and guarantee a stunning result by removing the grime and sediment.
All you have to do to access our services is call or email our team. Our contact form is also open, and you can request our assistance there. Leave all your questions and doubts, and let us know of any particular requests.
We will set an appointment and inspect your pool before we do anything else. This way, you can make all the decisions carefully and worry less about what we do. We only aim at the best options, so rest assured we will focus on only what you want and need.
Below is our list of additional services: