Pool Equipment Upgrade Services for Palm Beach Residents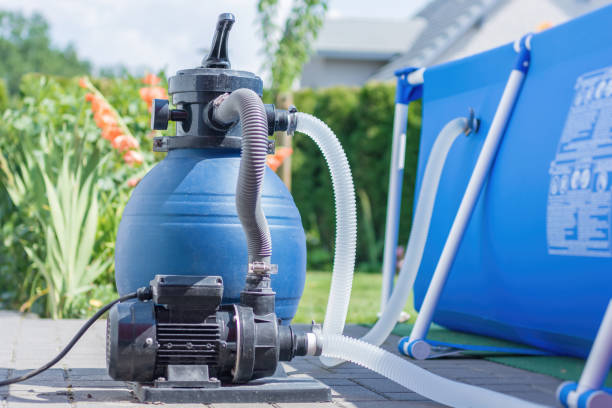 Your pool requires cleaning, maintenance, maybe some acid wash, and draining from time to time. All this will ensure it remains in good shape and can be used for many more years. However, besides your regular problems and issues with the feature, you must worry about how some items and equipment get old. This is when pool equipment upgrade starts to ring a bell, but you probably don't know how to deal with it or what is needed. At SoFlo Pool Decks and Pavers of Palm Beach, we can help you determine what needs to be upgraded. This way, you don't spend more money on what is in good condition and just focus on the essentials.
Keep in mind that upgrading your equipment isn't only reserved from when it is old. You can also require more items and systems as you work on your new construction or maybe renovations. For instance, you may need a new pump for your pool bubblers. Maybe you require a specific cleaning system and a draining one. Upgrading your type of system for saltwater can be considered part of the project.
Other gadgets or devices can be added. Maybe you want to monitor the pool with your phone. Even adding lighting can be included in the process. A lot is involved, and what our team does for you includes reviewing all the possibilities.
Thus, when you contact us and start working with our contractors, they will give recommendations based on what they get from the inspection. We will determine the different additions or if you want to include any device or upgrade to the pool.
Our team works with residential and commercial pools equally. Hence, you can rely on us no matter the type of pool you have and your upgrade needs. This includes working with us for any small changes or big ones.
Your pool's size isn't an issue for us either. We can give you a full walkthrough and ensure you have all the updates in place for all the use you will keep giving the feature or the new construction you added to your property.
What Can You Upgrade in Your Pool?
---
The list is longer than you would think.
First, you can consider automation systems and how to turn on the lights and heater and control the chemicals in the pool and the chlorine level. Maybe the pumps are on and how you can schedule the pool bubblers to turn on and off.
This will help with most of your usual maintenance and tasks regularly. It allows you to enjoy more time outdoors than worrying about the feature.
Pool pumps and the basic aspects of your pool can be upgraded above everything else. If your pump is old or damaged, we can make sure a new one is brought. This will be better in how it pumps the water and helps keep your system running. The circulation will be improved and the filtration system will be enhanced.
We also replace all the tubes and connections so everything is clean. You won't have to deal with any dirt built-up or all the debris and mold on them. This way, you save time and money in cleaning with a more efficient and cost-effective system.
Pool filters, heaters, heat pumps, coolers, and all the systems keep your water at a certain temperature. Everything can be replaced and upgraded for better performance. We will help you select the most affordable ones within your budget without making you sacrifice quality and performance. You won't have to worry about one of the heaters breaking in a few months or the next upgrade taking place soon.
All the tablets, sanitizers, and chemicals can be upgraded. How? By changing the system and how the pool operates. This is possible because your pump and all the filters can work with multiple products. However, you must consider the variations and how efficient they will end up being for you in the short and long run.
Finally, we have a list of the next upgrades to consider when contacting us:
Salt systems—if applicable.

Automatic cleaners.

UV and ozone systems.

The power and electrical system for power.

Controls and mechanicals. Any handles, cables, or the small yet crucial details that keep the whole pool running.

Upgrades that enhance the appearance more than the functional aspect, or both. Like pool bubblers, deck jets, cascade waterfalls, or sanitation systems.

A fire pit or other landscaping features.
How Much Does It Cost to Do Pool Equipment Upgrade?
---
It depends on the upgrade and what you are installing. If you go for features like fire pits and pool bubblers, you can spend around $400 to $700. The variable here is the types you can find with a single upgrade, which applies to every option.
For massive options like your pumps or maybe a whole new system, costs are around the same from the initial installation. From $1.000 to $5.500, you can have a new system and pump. Some sanitation options and UV devices can range the same.
Ultimately, everything will be based on the upgrades you need and want for the pool. If your pool is also small or large, and the specific type you have.
Our team can determine all this in no time during the inspection. We will visit your property and focus on what you need over what you want. Once we have the list done, we listen to what you expect to get in case it differs from the upgrades and problems you initially contacted us for and we identify them.
We will make sure you have a free, full estimate. You can decide to work with our team at SoFlo Pool Decks and Pavers of Palm Beach. We are here to help and make all your pool equipment upgrades possible.
We have the best options, products, equipment, and rates. Rest assured. You will get everything with us.
Below is our list of additional services: