Pool Deck Resurfacing for Palm Beach Gardens Residents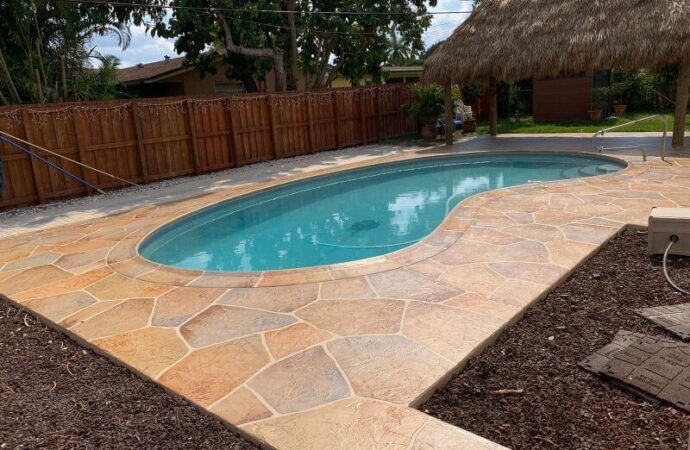 Palm Beach Gardens is known for its stunning properties. Over 81% of them shine thanks to all the features and proper landscaping. In them, pools shine the brightest as most homeowners, or commercial owners find their construction and use a must. At SoFlo Pool Decks and Pavers of Palm Beach, we know this quite well as we are the company helping them with all pool deck resurfacing needs. With our contractors, we can keep the pool and decks in good condition while bringing a new style. Everything's up to you and why you seek our services.
We are proud of being the #1 option among owners. Since we have been working hard on designs and improving our services, you can rest assured every detail is well-taken care of. It also means you can expect stunning results and avoid dealing with every step of the process. The question is, how much can our company do for your pool deck? Are our services limited to the deck only? Or are we able to handle pools and more features in your outdoors?
Essentially, we have all pool deck resurfacing solutions. We want to give you all the best options for your new surface so you can have a safe and durable space. This is without forgetting about aesthetics and your needs. To provide this, we had to continuously include multiple surfaces and materials. All of them vary in price, style, colors, and durability. What our team will do before anything else is guide you and provide information so you can decide what suits you the most.
Working with qualified pool deck resurfacing contractors or having a company that can guarantee clean and stunning results in Palm Beach Gardens can prove to be a challenge as not many people consider focusing on quality over quantity. You would be surprised by the number of "experts" that are quite the opposite and unable to deliver or achieve the desired results. At SoFlo Pool Decks and Pavers of Palm Beach, our team can offer you great services so you can rest assured that your outdoor space will be in good hands and become a durable and stunning space from now on.
Our role begins by guiding and supporting you in all the process of choosing the right service, materials, products, and styles based on your needs and preferences so you don't regret your decisions in the short and long run. Instead, you should be able to have a pool deck that will stand the time and durability tests and offer great results and performance for the next decade or more.
Put simply, we are here to ensure you have a good design and plan in place before you actually begin this service. We want to make sure you're happy with everything and for it, we need to make sure you understand what are the things that will leave you satisfied but without sacrificing anything related to how the pool deck will perform and how long it will last.
In Palm Beach Gardens, we have been assisting homeowners and business owners for over 15 years, and we're quite proud about what we can achieve for you regardless of the size of your surface and the amount of work it entails.
When contacting us, you can request our regular pool deck surfacing service, or just come to us for specific requests such as:
Pool deck repairs.

Pool lighting.

Travertine installation.

Diamond brite installation.

And much more.
We are not limited to a few options and regardless of the one you choose, we will give it our all so you can get the desired service and results you've been expecting.
Are Pool Decks Really That Important?
Beyond working on them in order to have a pool deck that stands out and you can enjoy, it is a matter of taking care of the pool itself. You will avoid cracks and damage to some spaces and areas of the pool, while you provide safety to everyone using it.
Your pool deck shouldn't be slippery and part of resurfacing is not only making sure that all cracks and the damage are dealt with but also working on a better surface and design that covers all needs and preferences for this outdoor feature.
Allow us to guide you in choosing the right service or making recommendations about what your pool deck needs and how the resurfacing can be a good choice by allowing our team to assess it once, or give us as many details as possible so we can give you an estimate that comes with all recommendations and alternatives for your pool deck in the city, be it in a home or commercial property.
Below is our list of additional services: