Diamond Brite Installation Services for Palm Beach Residents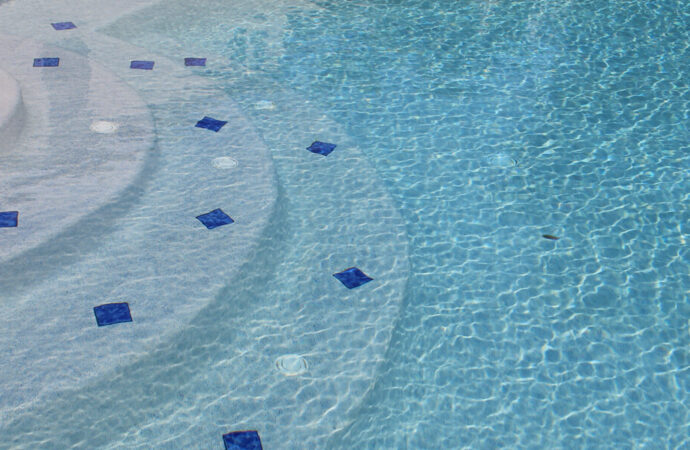 Making your pool look stunning is a priority. This is what most pool owners think, and they often focus on this factor before worrying about budget, durability, and longevity. As a result, most of them have a pool that loses its beauty in a few years. After all, you can have a pool that looks amazing, but if it doesn't last, you won't get to enjoy it or have a return on your investment. This is why we emphasize the importance of working on durability at SoFlo Pool Decks and Pavers of Palm Beach. For it, diamond brite installation is often the best option.
This finish allows you to avoid continuous repairs and maintenance. You can always go for the regular cleaning and water changing you do. However, what diamond brite will do for you is reinforce the tiles and surface's durability and resistance. It is all thanks to the fact that this installation consists of a polish blend applied to the pool's internal walls. The main issue with getting the desired result is how your contractors handle the installation and the materials' quality.
Our company and contractors can guarantee the most stunning result. We will ensure you get a clean installation worth your investment. Also, that can ensure your pool's durability and how it performs in the short and long term. For this, we will assess its current state, set a plan, and provide you with a budget. You decide when we start. If you have doubts about using it, this can be resolved easily.
When working with a pool and everything that involves it, you need to worry about durability and longevity. Considering that pools come with the regular issues of dealing with chemicals, having to focus on the weather conditions, and the amount of traffic in the space—the number of people using it every day—you will want a stunning pool, but after you consider everything that will make sure the design lasts and won't make you spend more resources and time. At SoFlo Pool Decks and Pavers of Palm Beach, we always recommend diamond brite installation when it comes to the interior finishes and how long you want it to last so you don't have to constantly repair and deal with the areas that are damaged or worn out.
Unlike what most people believe, diamond brite is not a type of surface or material for resurfacing pool decks, which is understandable for people to believe this as resurfacing or the services around it are often associated with the deck alone and how concrete or similar materials help with any of the solutions.
However, diamond brite is actually a polished blend made of natural quartz aggregate, color quartz that is quite durable and won't fade unlike other blends, and a modified cement that is partially made of polymer, adding durability and longevity to the entire finish.
The idea of using this blend in interior finishes is to make sure that your pool won't require continuous repairs and to make sure you can have a surface that offers great heat control and will help prevent several accidents as it isn't the usual slippery surface you would expect.
Now, diamond brite can actually be used in pool decks as well, but it is commonly used in the interior of swimming pools due to its resistance to chemicals and the chlorine on the pool. It will endure everything and make sure people will have a great experience while spending time inside of the main feature in your outdoor living space.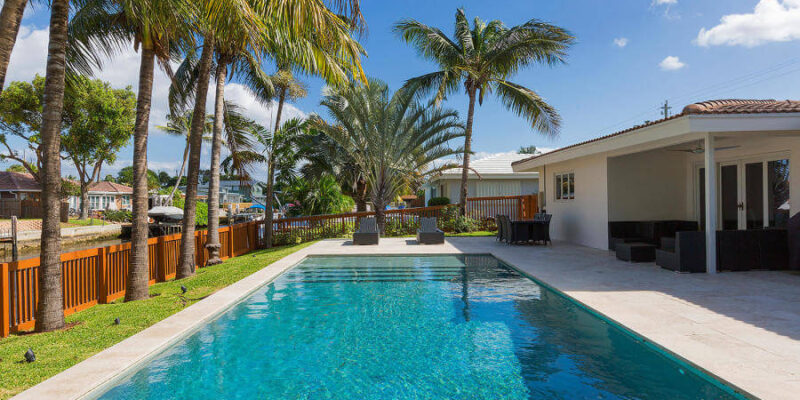 Why We Always Recommend It for Pools
Going over more details for this element, we want you to remember that you need to consider texture, durability, and style. In this specific order would be the best.
In terms of texture, you get a result that will be comfortable for anyone walking in it, specially on the edges where most people focus the use of this diamond brite option. when it comes to functionality, heat won't be an issue as previously mentioned, which is something you care about deeply if you remember the heat and weather in all of Florida, not only your city.
This pool finish won't fade and you get a result that won't require frequent maintenance, allowing you to save time and money in your pool and investing them in other spaces or elements that determine the deck's or pool's performance.
Finally, you know to remember this: it is quite easy to put in and you won't have to wait long to use your pool or pool deck for too long. You only need to wait a few days and it will be safely placed and performing quite well regardless of the high volume of foot traffic you may have in your place.
Is It Expensive to Have Diamond Brite?
Not at all, and this is what is making it more popular over the years. You can have one of the best surfaces and textures at a very affordable price.
Since it offers quality, durability, and great looks all in one, you will be happy with your investment, which will be much better than relying on other options that aren't as durable nor as affordable as this one.
We want to make sure you stick to your personal budget and that you're not forced to invest more than what you can afford. Thus, make sure to contact our team at SoFlo Pool Decks and Pavers of Palm Beach to request a quote and have us assess your pool and space to determine how much it will cost.
The amount of work involved along with the regular square feet we have to consider will add to the final price for the project. However, you will be happy to know that this ends up the closest option to a one-time investment since the next time you will need it will be in 10 to 15 years as long as proper maintenance is provided to the pool and deck. Repairs are also rare and quite easy to deal with in case they are needed.
To give you an average, this diamond brite finish can cost between $4.000 and $11.000. everything will depend on variables such as:
The size of your space or pool.

The specific type of diamond brite used—brand or product in the industry/market.

The style and color you want since prices vary based on this.

The timeframe or deadline you may need us to stick to.
If you contact our team, we will be more than happy to provide you with an estimate around your needs and preferences. We will ask a few questions about the space, size, color, texture, style, and more, so we're able to be accurate or quite close in the quote.
If you're willing to give us access to your space so our professionals can assess it, we will be happy to provide our services and ensure you get the best results and a quote beforehand that will stick as the final price unless you have any changes, additions, or want us to work with a different style and option.
We will go over the entire process of installing this finish. From draining the pool and removing the tiles to adding the new tiles or pieces, the bonding coat, and finally installing the diamond brite.
For more information about this diamond brite installation and service, feel free to call, email, or visit us as we're always receiving residential and commercial property owners in Palm Beach and surrounding areas.
Below is our list of additional services: