Pool Deck Stamped Concrete Services for Palm Beach Residents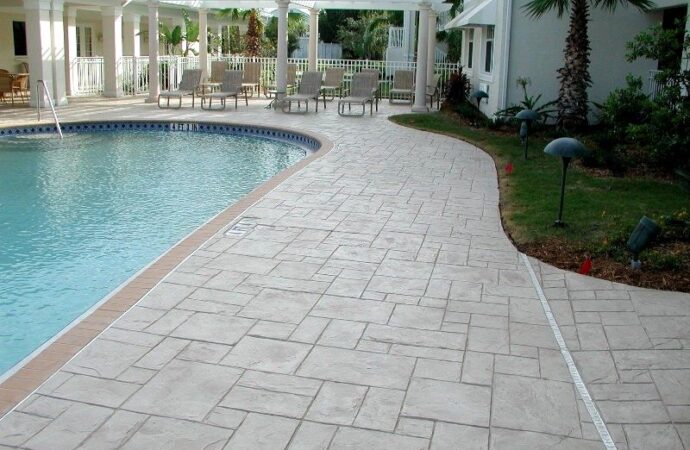 A pool deck is just as essential as the pool itself. After all, you don't usually get to experience your pool unless you have one built. The issue is that it can quickly become a hassle unless you have a material that is worth it in terms of price and durability. Of course, aesthetics also matter depending on the design you want. We recommend pool deck-stamped concrete at SoFlo Pool Decks and Pavers of Palm Beach.
Although it isn't the favorite among pool owners, it can offer you everything you need. This includes a beautiful and durable surface. You won't have to spend a fortune to get it; just anyone can handle the maintenance.
Our company particularly recommends stamped concrete due to Florida's weather. The heat and humidity can be a problem for most surfaces. This is due to how pool decks wear out when exposed to the elements and how often you must reseal or resurface. As a result, you don't even get to enjoy your expensive decks for long.
However, the stamped option can handle the weather conditions and still give you a neat and stunning aesthetical result. It is all about working with the right materials and knowing how to seal the surface.
Our contractors know well how to apply the concrete and seal it. This way, you don't have to worry about cracks in only a few months or years, and heat resistance as well as non-slippery properties will be in place.
What if the conditions in the city change? If you are worried about storms or weird temperatures, stamped concrete performs well in freezing temperatures.
Why You Should Choose Pool Deck-Stamped Concrete
---
We worry about durability and longevity when we work with pool decks. Although the design and color you want to matter, there's no point in a beautiful deck if you won't enjoy it for long.
That being said, stamped concrete saves you time and resources. You also experience better performance and have your pool deck ready for multiple people and situations.
Some of the benefits and reasons we can mention for you to choose it to include:
It is very durable thanks to how the concrete is worked and the special quality of materials we use in the company.

It is low maintenance. You only need to clean it properly weekly and perform some repairs when cracks are noticeable or visible. Yet, the latter doesn't occur often.

Quite affordable in comparison. You don't have to spend a fortune compared to travertine, brick pavers, or even eurotile.

The installation is easy and quick. With our team, you won't worry about how you have to wait to use your pool again due to how the surface needs to dry.

You get multiple options in patterns, colors, and textures.

Less labor and long-term expenses.

Resurfacing it is cheaper and will take less time when it has been several years since you stamped your pool deck.
How We Make This the Best Option
---
Just like any surface or option in the market, there are some considerations.
For instance, stamped concrete or the main material alone isn't non-slippery. You need to add a resistance additive to the sealer. This way, you will have a surface that can be safe for all children and any person using the space.
The type of surface also requires resealing. This means you have to apply a new coat to ensure the look and performance of the surface remain. Otherwise, you will have to deal with stains or discoloration.
The good news is that resealing isn't expensive. You must do it every 2 to 5 years, costing around forty-five cents per square foot.
How can we make it the best option with all these considerations and things to notice? Simple. We offer all the post services and ensure you don't have to worry about them when you stamp the pool deck with us for the first time.
We know how to work with the materials and techniques properly. Thus, thanks to our skilled and qualified contractors, you can expect a clean and durable result. They are also properly equipped, and the products we put to use are only the best in the market.
The post services needed to maintain your stamped concrete are also affordable and you can have us deal with them every few years. For instance, we give you amazing rates and the same quality service for pool resealing.
Finally, we can work with this pool deck stamped concrete around your budget. This option can cost between $8 and $14 per square foot. We ensure that our rate adapts to your needs and budget.
For all this, we inspect your pool deck, work on its repairs, and do the pre-work it needs. Once we determine the details, we will give you an estimate we can negotiate or change.
How to Have Our Team Stamp Concrete Your Pool Deck
---
A call or email will be more than enough. Our contact form is also available. You can leave any questions, request the service, and even schedule the visit for a free estimate.
We would love to work on this project with you so you can feel, see and enjoy the wonders of stamped concrete. Rest assured. We offer you multiple colors and designs. This way, you don't have to sacrifice durability or quality for aesthetics and vice versa.
All you have to do is give our team the list of preferences you have and if there is any special request. If you aren't sure about every detail you need or the specific characteristics you're looking for, our contractors help you with them.
We will bring different designs and options. You can choose from them or ask us to customize a specific recommendation to your taste.
Contact us today and have our team work on your pool deck quickly! We will be there for any small or large-scale project and whether it is for your residential or commercial pool deck.
Below is our list of additional services: