Learn More About SoFlo Pool Decks and Pavers of Palm Beach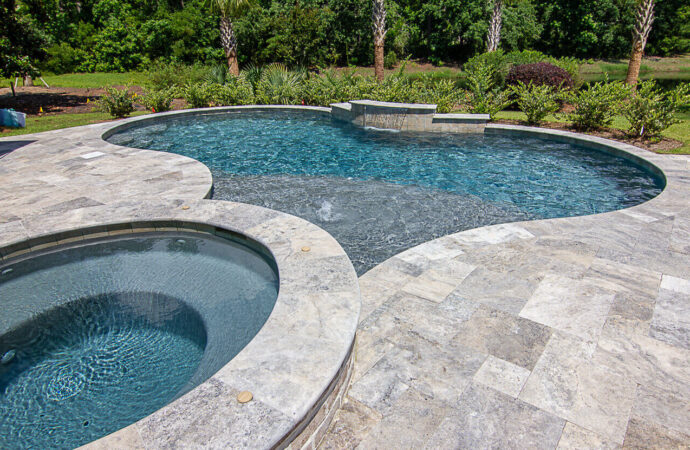 Among your options in Palm Beach for pool deck resurfacing and outdoors, SoFlo Pool Decks and Pavers of Palm Beach is always at the top. We are the #1 option for all your projects and resurfacing needs. With over 15 years of experience in the industry, you can expect our team to be at the top of the game for small or large-scale projects in residential or commercial properties. After all, we are confident about our expertise and skills. Additionally, we have worked with property owners of all types and understand the scope of their needs.
Our company worries about your preferences, needs, and what you expect from the project. This is why we work towards providing top services and ensuring all our contractors can resurface without hesitation. We have made sure of this by providing them with top-quality equipment, ensuring they are licensed and with experience. Each of our contractors and staff members has at least 5 years of experience in the field.
This means that when you work with us, you can expect reliable professionals. They will handle all types of pool deck resurfacing such as using eurotile, brick pavers, or even spray decks. What you need to let us know is your budget, vision, and how you want to have your pool deck resurfaced. We are not scared of a challenge and help you come up with an idea for your space. This is why you can ask our experts to give you some advice and bring multiple designs and styles to your space.
Working in the pool deck resurfacing industry and field can take a lot of work since you not only need to gain experience but also make sure you're polishing your skills with different jobs and using the top quality materials available for it. otherwise, you won't be able to offer clients, homeowners, and every person in Palm Beach top services that will solve their problems. At SoFlo Pool Decks and Pavers of Palm Beach, we worry about providing the best services thanks to our qualified, licensed, and experienced contractors who know how to work with every related to resurfacing, including pool coping, spray deck, eurotile, and much more.
Although this industry is known for how pool deck resurfacing is used to repair decks and just bring a new look, professionals in it should be able to offer other services that work around the pool itself and how the surrounding area is related and involved in improvements.
Now, if you're wondering why pool resurfacing contractors are important instead of tackling this project yourself and deal with your deck alone, it is simple: if you want to guarantee good and clean results, you will have to work with the best materials, understand how each one works so they don't go to waste, and be capable of knowing how to achieve different results and styles based on durability and longevity, not only while aiming for aesthetics but also the entire functional part of the pool deck and purpose of the main service required.
Our team is qualified as we work with different materials, including pavers, concrete, acrylic, and different options that offer not only different levels of durability and longevity but also a wide variety of designs and styles.
Since we understand how important is to have a pool deck that offers you all the experience and won't lead to accidents due to the damage or cracks in the surface, we want to make sure you have one that won't cause any problems in the next 10 years or more if possible.
That being said, our pool deck contractors are more than qualified as each of them has at least 8 years of experience in resurfacing and working with everything related to coping, installations, repairs, remodeling, and using a wide variety of materials and tools needed to ensure better results as the pool deck resurfacing technology and industry advances and brings new options.
How Are We So Confident?
Because we have been offering services for over 15 years and during this time, we have made sure we only work with specialists who can deliver the results they promise or even better ones. We don't want to have experts that will go overboard nor think they have any rights to make additions or changes. You are the priority and we want you to be happy, and for it, we need qualified people to work on your resurfacing needs.
We also make sure to provide each one of our contractors with the best materials, equipment, and tools so they don't have to struggle and can finish the job in no time without compromising quality and durability.
We're here to satisfy all your needs and wishes with the experience we have gained over the years and how we continuously improve our skills.
Below is our list of additional services: