Eurotile Installation Services for Palm Beach Residents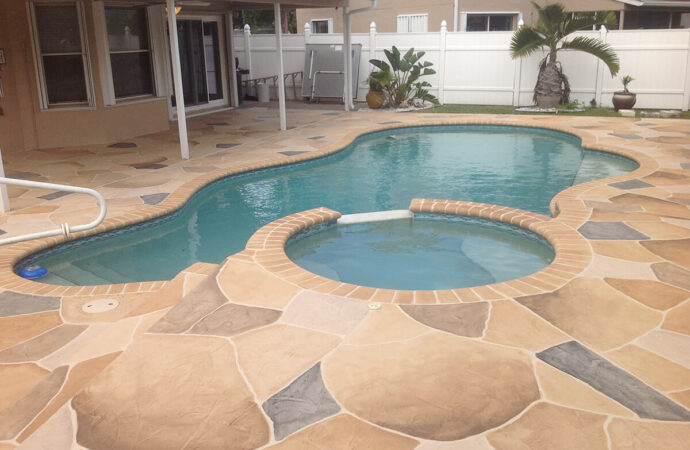 Among the affordable options for pool deck resurfacing, eurotile is at the top. It offers a clean and neat surface while ensuring you don't have to sacrifice aesthetics for durability or money. You can have the best in every factor and detail if you focus on finding reliable contractors. SoFlo Pool Decks and Pavers of Palm Beach is a company that has been working with this option for over 15 years. We know how eurotile works and how it should be installed. All this while we listen to your request and focus on your needs that led you to this resurfacing.
The material performs incredibly in Palm Beach, as the hot weather isn't a problem for such a heat-resistant surface. Thanks to how our team handles the process, you will get durability, longevity, and excellent performance. But more importantly, in all this, you will get a design that is far from ugly. As most people have categorized eurotile as a dull material for resurfacing, we can tell you it is the opposite. The design you get is classy and you experience a modern result as long as the color is chosen accordingly.
You can have the same beauty as pavers or concrete using this product. However, you do have to consider some limitations and how creative you can get. Otherwise, the option may disappoint when it should be the opposite. This is why our team guides you and navigates all pros and cons before you decide.
When considering the options for the surface of your pool deck, we are well aware that the idea of having concrete or just tiles is at the top since they are commonly used and quite durable when the installation is done well, along with using top-quality products and materials. However, both options can be a bit expensive and not always the best with the space and how you want your design and style to look. In terms of affordability and being able to achieve a durable and stunning surface at the same time, eurotile is a great option our team at SoFlo Pool Decks and Pavers of Palm Beach knows best, as we have been working with the material for over 15 years and we highly recommend it, especially when considering Palm Beach's weather.
This surfacing option brings a classy and sophisticated style that is often not achieved with options such as brick pavers or even concrete if contractors don't know how to work with the material properly. There are many variables when working with pool decks and their surfaces, so you will have to consider the pros and cons of each type of material and the alternatives available for them.
Considering the pros, they are usually focused on eurotile's durability and how strong it is to the point of offering a clean and stunning surface for over a decade with very little maintenance, and repairs are quite rare as long as the surface is properly installed.
Although it is quite common for pool decks or just pool areas overall, you will notice that many homeowners and commercial owners decide to use them for more than this outdoor space thanks to how affordable, durable, and stunning it is when everything is handled properly and the design and style the product can offer to align with what needs to be achieved as a final result.
However, before you move onto this option and choose the service in our company, it is proper to learn more about what eurotile can offer you. We are more than happy to get started on this right away.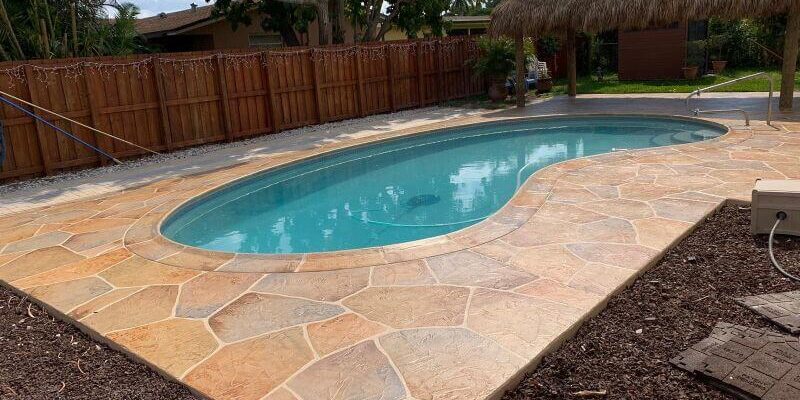 What Is It & Why Should You Consider Eurotile?
Considering the number of options for your pool deck, we understand your hesitation.
However, eurotile is not only a durable and long-lasting product, as previously mentioned but also quite affordable and flexible in the designs and styles you can obtain with it. The installation doesn't take as much time as other materials and surfaces, and you will be able to have good absorption, so a slippery surface is avoided, as you should worry when having to design your pool area.
Now, eurotile is a very common product that has been growing in popularity for the past seven years. It is made of acrylic and concrete, and its heat block properties are quite good for the weather in the city and the entire state. The idea of having it installed—in the mind of most homeowners—is to achieve different types of styles and designs.
With our team, you can achieve the look and surface of natural stone, Mexican tile, slate, or maybe flagstone. It is crucial to learn and understand how to use the material properly, so the desired result is achieved, and the beauty of your space will be enhanced for this very reason when working with us.
There isn't something complicated regarding the constitution of the product, but rather, just consider its benefits:
It brings aesthetically pleasing styles and looks.

It is quite strong and solid.

It offers great performance for a high volume of foot traffic in the pool and is resistant to heavy weight and all extreme weather conditions in the area.

It is a good option for either a first-time installation or a resurfacing project to change the aesthetical look or just bring a new surface to your pool deck.

It lasts for over a decade with little maintenance, saving you time and money and even bringing a return on investment.

It is quite hygienic, and you won't have to worry about massive amounts of bacteria everywhere.
Of course, when you contact us and request our service for your pool deck, we will introduce you to eurotile and go over all the details that will help you make a decision. This product is, however, one of the top options for any pool area, even if you are worried about it being in a hotel or elegant place, as the design you can achieve with it and with the help of our team will be outstanding and based on what you need and want.
Besides, you will have a financially wise and budget-friendly surface that, in the short and long term, will bring a return on investment or what is known as ROI. You get to upgrade your existing pool deck or have one for the first time with a product that will rarely cause any problems and require very little maintenance, reducing the entire pool cost dramatically.
Colors & Options Available
Besides imitating different materials and surfaces, you also get colors and materials that vary and can be adapted to what you want for your pool deck and outdoor space.
In the case of color choices, you have almost an unlimited list, as the colors vary depending on the specific design you want to obtain. If you want to imitate natural stones or maybe Mexican tiles, respective colors will come based on them.
For textures, you will get either a smooth and sleek surface or maybe a clean and very resistant one. Most of the time, everything comes together. You won't have to worry about how hot or slippery it is since the material is resistant to all weather conditions; it will stay cold thanks to the consistency of the main materials used for the product. You will have an absorbing surface that brings all benefits together and a safe area.
Make sure to contact our team for more information and details of your surface for us to start working with eurotile and deliver the top results.
Below is our list of additional services: