Pool Deck Resurfacing for Palm Beach Island Residents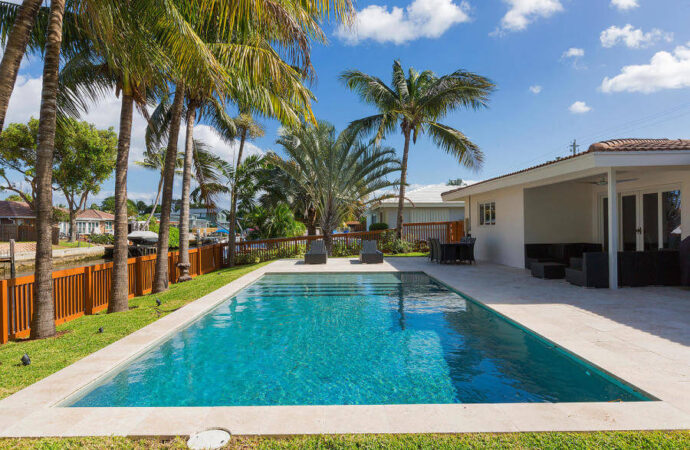 Planning a pool deck resurfacing? Or do you need to handle some repairs? SoFlo Pool Decks and Pavers of Palm Beach provides all assistance and support. Our contractors bring a new design when needed for your space in Palm Beach Island. Or we can always handle the repairs that can make your pool deck brand-new. Regardless of what is required and needed, we will first assess your pool area and focus on solutions and recommendations. You can choose from them, and always feel free to let us know about your vision and particular request in this process.
We would love to comply with what you need or focus on getting you the exact design you have in mind. After all, pool deck resurfacing tends to be performed for two main reasons. The first one, you just want to change the design and style to achieve a new aesthetically pleasing look. The second one, the damage all over the deck, reached the point of no return. Hence, resurfacing is the only solution left. Whether it is one or the other, we are here to focus on the mission. Thus, feel comfortable asking us and placing your request with our team.
We will do our best to achieve what you want and more. For this, we have the top contractors and designers in the state. They will work alongside you and bring all the options we have available. Eurotile, brick pavers, spray deck, and more.
At SoFlo Pool Decks and Pavers of Palm Beach, our team makes sure that you are happy and satisfied with the results you receive when requesting pool deck resurfacing, remodeling, repairs, and many more services required to ensure the outdoor feature is in good hands and can continuously perform without any issues. We understand how difficult it can be to deal with certain problems and repairs in Palm Beach Island as there aren't that many professionals willing to offer services to ensure you don't have to worry about anything.
Some of the so-called experts aren't even able to provide top solutions and they just end up adding more problems and things to fix once they have performed the service. We have had to repair several resurfacing results and anything related to repairs and remodeling projects as they were poorly done and only brought more difficulties while delivering the desired result.
We want to make sure you don't have to go through all this hassle, which is why we open options and services for any type of needs and projects regarding your pool deck, resurfacing, installations, and more.
Each one of the professionals in our team has over seven years of experience and they are able to deliver top results thanks to:
Their experience and expertise.

Top quality materials used in every single project.

Their skills.

The newest techniques they make sure to implement.
We are not trying to make you spend more time and resources when we can get it right the first time and ensure you enjoy a surface that isn't only safe and stunning but also durable and long-lasting.
The idea of investing in resurfacing or the simple decision of working on your pool deck should be done once every several years, usually every 10 years as the materials and proper delivery of the service are involved with us.
You won't have to worry about frequent repairs and maintenance, and whenever you need them, we will be happy to assist you so you don't have to go over the same problems over and over again.
We Do More than Resurfacing
If you're looking to enhance your pool deck and bring a new feeling and atmosphere to the space, we will be more than happy to help you.
Pool lighting is part of the services available in our company and we're always excited to work around these projects as we get the chance to work with the pool itself and ensure it looks stunning, has lights that will be durable, and allow you to be able to enjoy it no matter the time or hour of the day.
Just make sure you let us know whether you need this service or not when contacting us or having our team working on other areas and projects for your pool deck. We can include the service to the current one, or work around the entire project and needs from the very beginning and regardless of your pool's location and its size.
Below is our list of additional services: