Spray Deck Services for Palm Beach Residents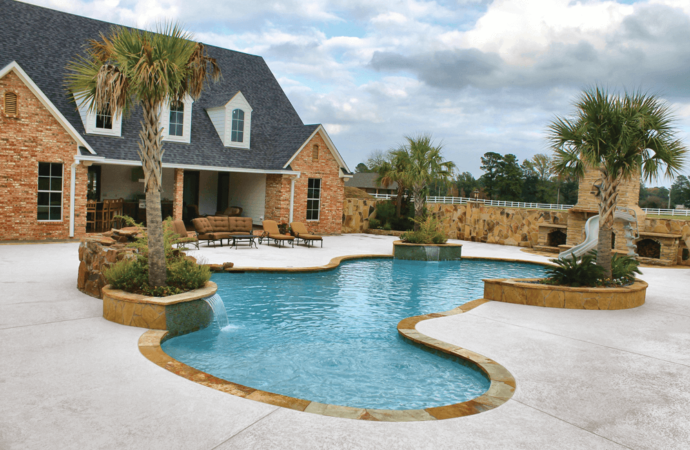 Affordable, durable, and stunning. This is what you can get when you choose to spray your deck. What most people believe, however, is that it will result in a poor surface that won't offer everything you need. Having qualified experts is the key to making this resurfacing technique and options work. We have worked with this option for over ten years at SoFlo Pool Decks and Pavers of Palm Beach. As popular as it is right now, the truth is it has been a long since it was introduced in the market.
The main reason for its regular use nowadays is its price and easy installation. You can have good aesthetics and the project done in a day or two. The duration and cost will always vary depending on the size of your pool deck. However, it can be guaranteed in our company that you won't pay thousands for the project. You can have the resurfacing done within your budget, and we can help you find a style you like with it. All this includes a clean result that will be durable and offer the usual benefits: non-slippery and heat resistance.
Before you decide to take on this spray deck option, we will educate you about it. our team takes the time to go through all details and explain its functionality. Why would you choose it? Is it worth it? does it being cheaper mean it will last less? Or should you worry more about the colors and style? Some of these questions will be answered as you navigate the page to consider the service.
Pool deck resurfacing is something all pool owners will need at some point. If it is later than sooner, the better, as this shows your surface's durability, quality, and longevity, but you should try to consider the options when the time is near, as you will be able to make a decision based on your budget, time, and the design you want to achieve with the resurfacing. Among all of the options, the spray deck is growing in popularity mainly for its cost and how fast you can get resurfacing done.
Our SoFlo Pool Decks and Pavers of Palm Beach team has been working with this technique for over eight years. Although it may not be for everyone due to the design you get, it is a good option if you're looking for affordability and durability.
You can resurface any pool deck and surface in no time, and you won't have to spend over $7.000 in order to get it done. The key to being satisfied with the result beyond just considering the cost is finding professionals who actually know how to work with the material and product so you can have an aesthetically pleasing result while its longevity won't be questioned.
This is part of the most recent services considering we have been helping all pool owners in Palm Beach and nearby areas for over 15 years. We're proud and confident about how we can get this resurfacing done with a spray deck thanks to the quality materials we use, our professionals' experience and skills, and how we focus on what you want and need simultaneously.
We understand that re-pouring concrete, using brick pavers, or maybe choosing natural stones is quite popular for any pool surface or resurfacing as needed. Still, they can become expensive for some homeowners—specifically, trying to remind them of their budget and not having any expensive preference for some materials and options.
What Is All This Pool Spray About?
Usually, pool deck resurfacing is performed in different ways based on the existing surface, the material used, and the new one chosen for the project. In the case of this spray option, you get a textured cover-up product and an alternative that is always applied over the existing surface.
However, it is often used where concrete has been used as the main surface due to the concept of applying the cover-up over the existing surface. Although some surfaces may apply, concrete is proven to be the best "foundation," so if any damage is covered, you get a neat and clean resurfacing result, and you won't have to spend more in the entire process.
The beauty of the spray also lies in how many textures and colors you have available. Although it isn't considered the most stunning surfacing option, this doesn't mean it isn't beautiful. Everything is about perspective and preferences in this world, and you will need to choose based on what you need, can afford, and want in this process and project.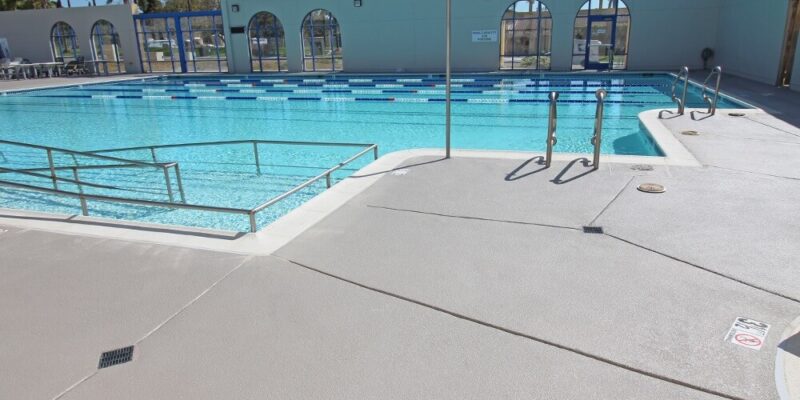 Pool Spray Textures, Colors & Alternatives
Focusing on the options available so you can choose the one that adapts to your needs and preferences the most, you have specific options based on each element: texture and color.
You can have a smooth surface with this spray so you continue the modern and clean design of concrete itself or similar materials and resurfacing options, or you can opt for the rugged design that is based on how professionals work with the spray and cover the entire existing surface with it.
Bubble and pebble finishes are common, so you don't have to be satisfied with a smooth one if this isn't your cake or need something different to compliment the entire pool area and want to continue a specific design in your hands.
In terms of colors, you have almost any color available due to the nature of the spray and how it is fabricated or manufactured.
Light shades that go for the regular and classic design and style are the most common and the ones we personally recommend if you don't want any changes or are just trying to achieve a neutral result. However, colors like gunmetal, terracotta, and nickel are part of the deeper tones available for this product.
Keep in mind that the selection in colors will be based on light and dark colors the most, but some exceptions can be achieved based on the needs you have and how we are able to have this spray work for you.
Why Should You Consider Pool Spray?
Besides being cheap or affordable, it is also durable, which means you won't sacrifice one benefit for the other and, instead, have the best of both worlds. It is quite a good option for resurfacing due to these two main factors, as most homeowners or commercial owners get the chance to have a neat and new result and surface without spending a fortune. They won't have to worry about looks and will achieve different results as needed.
Unlike popular belief or what you would guess from the idea of spray, it is also slip-resistant and heat-resistant, meaning you get to have a surface that is just perfect for pool areas and has nothing to envy concrete or brick pavers.
Everything will depend on how professionals deal with the spraying process, and if the quality of the product used is up to the standards since, just like everything else, there are several brands and options available in the market.
SoFlo Pool Decks and Pavers of Palm Beach works with top-quality products, and we make sure that the amazing quality of our services begins with them. We don't want you to spend a lot of money if you can't afford it and if it isn't necessary for the result and needs you to want and have, respectively.
We will work hard to spray your deck and set a surface that withstands everything, including harsh weather conditions and more. Just make sure to contact us and request your quote so we can start working on your surface.
Below is our list of additional services: