Pool Refinishing Services for Palm Beach Residents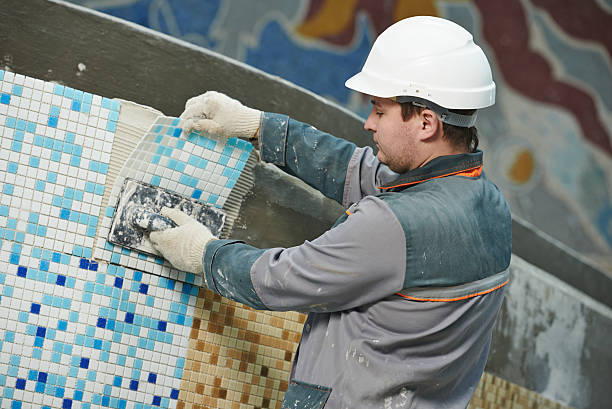 Pool refinishing is needed with time. You may have a stunning pool after the construction, but years of use only bring repairs and much-needed maintenance. Part of keeping it in good shape and ensuring it continues to look beautiful is working on its refinishing. This also allows you to change the style and design if you're bored with it. Or if you are trying to repair some areas while getting a new color or texture. We give you our full support at SoFlo Pool Decks and Pavers of Palm Beach.
We have been working with refinishing since we started the business. Thanks to this, we have qualified, experienced contractors who understand the entire process. Additionally, they work with the best materials and equipment. Doing so helps guarantee a clean and stunning result that can only be achieved with skilled people.
Now, pool refinishing involves more than just choosing colors and materials. You usually perform the service when you require some repairs or the pool is old. Some pool owners may decide to take on the project when they simply want to change the appearance. Regardless of your reason, we want you to remember it takes several steps.
First, we must inspect your pool and see why refinishing is needed. Unless you want to change the design only or this is the main reason, we will go over any need you may have. After this is done, we will work on the new refinishing and design. You must choose a specific type of refinishing that can give you the desired look, durability, and longevity.
Our team will handle the maintenance process in full. Thus, you don't have to worry about how much time and steps it takes. We will be there to go over each one and cut time in the project as we go.
Is Pool Refinishing the Same as Pool Resurfacing?
---
You can consider it the same, yes. The principle of refinishing lies in removing the top layer of the pool surface. This layer can be damaged or old, or maybe you want a single change for a new design. Once removed, we replace it with the new material of your choice.
Once the top layer is replaced, we need to apply a sealant so you can have the last finish and all the surfaces ready for use. Depending on your new material and surface, the process can be longer or shorter.
For instance, using concrete can take longer because it needs to dry. However, using fiberglass, depending on the specific brand, can take less time. The question is, which one of the designs and types do you want and need?
It is important to notice that options like brick pavers, spraying, and travertine aren't for the pool. You can use them for your pool deck but not for the inner parts of the feature. At least, we don't recommend it, considering what you require. However, the entire concept of resurfacing and refinishing the pool does fall in the same way.
You have the same options whether you approach this as refinishing or resurfacing. Thus, you can choose vinyl liners, fiberglass, concrete, tiles, or using options over plaster. There are multiple opportunities and we can work with each one of them.
Do You Need to Refinish Your Pool?
---
This is the main question to ask yourself. Sometimes, contractors will recommend doing it. However, this doesn't mean it is the right option.
Refinishing isn't the most affordable project or service to choose. This is why it is often saved when your pool is heavily damaged or needs a makeover.
However, repairs or damage that involve a few cracks or stained areas doesn't require refinishing. Discoloration can also be solved with other methods and some chemicals proper for the particular project.
We recommend pool refinishing when discoloration, stains, cracks, and damage of all kinds are over the place. If you cannot use your pool without worries or don't feel entirely safe, it is time to go for a new finish.
It can also be used as a way of preventing future repairs. We have helped many pool owners in Palm Beach refinish the feature to avoid over-remodeling or other projects due to the pool's condition. Of course, it is done based on the request, if you wish, and after we inspect the pool.
Finally, consider this service as essential maintenance. At some point, you will need it. We aim to ensure you don't jump in or delay it more than you should. This is why the inspecting and evaluation phases are crucial before deciding.
What Options Do You Have for Pool Refinishing?
---
The main ones in our company include plaster, quartz, and pebble.
Going in order, plaster is the type of pool finish you want for a low price yet sacrificing some longevity. It is stunning and can bring a good color, especially if you opt for pale blue. However, stains are common and the plaster lasts less than a decade. Thus, you may consider it as a short-term option or when tight on budget.
Quartz is more of the counterpart. You can expect it to last for over 13 years due to its durability and the shine it brings to the pool is unique. However, the price can go higher due to these properties.
Finally, pebbled is the most durable and expensive of all the options. You must incorporate tiny rocks that will bring a texture and polished look. It is stunning and you can enjoy it for over 20 years.
We navigate all the options with you at SoFlo Pool Decks and Pavers of Palm Beach. Others, like fiberglass and what we mentioned earlier, can be discussed with our contractors.
Or, if you have a particular request, let us know! We are here to help with every step of the refinishing and satisfy your needs.
Below is our list of additional services: