Pool Coping Services for Palm Beach Residents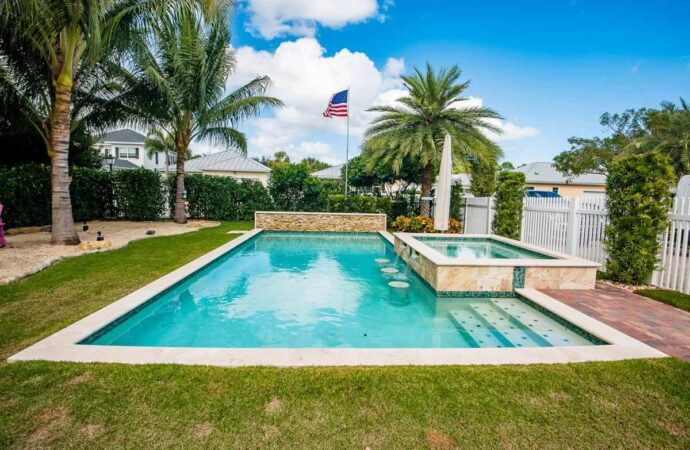 Your pool's structure is what matters the most. You can plan the pool deck and the surroundings. However, if you don't have all the details and parts in place, you have a result that lasts less than a few years. Among the details to prioritize, pool coping is one of them. We always make sure at SoFlo Pool Decks and Pavers of Palm Beach to remind owners and clients about it. After all, it guarantees a pool's durability, performance, and longevity in the short and long term.
Separating your pool and the deck prevents moisture and bacteria from growing. As stunning as your entire feature may look, poor coping will ruin your effort in months. But how can you work with this process? Is there a way to work with pool coping after building your pool? Or is it a project of rebuilding the entire water feature?
When working with our team, anything is possible. We will design this part of your pool properly during the construction. If it is already in place—or not even there—we design and plan the solution so you can have it installed and solved. We have the best contractors and designers who consider your current style and pool deck. We aim to focus on solving a problem while keeping the same aesthetics. This is unless you are trying to achieve a new result around your edges and want to change your space while handling this outline.
People don't usually remember pool coping and its importance when designing a pool or working on all the details and elements. However, our SoFlo Pool Decks and Pavers of Palm Beach team knows all about it, and we always do our best to deliver the best solutions and services. Still, first, we focus on allowing you to learn more about coping and why it is something you need to pay attention to.
Put simply, pool coping is what separates the pool shell from the surrounding area or pool deck, which is why you consider it part of the edges and how you work with this needed separation. The idea of working on it is to make sure the separation protects the entire pool structure, allowing for more durability and longevity regardless of how small or large it is.
What people wonder is how coping itself and the process of working with this area of your pool helps to take care of it and ensure durability. Well, since it is mostly the outline of your pool, it will be all around it, and the "layer" you install or apply in it will need to resist all types of external elements and the simple use of the space.
Many edges and this outline of the pool tend to be poorly installed and maintained, causing most of the water actually affects your pool deck or bring more damage to the entire pool structure and area. The idea of working with pool coping is making sure the entire design and style go well with the rest of the space but that you mostly have a feature that will prolong durability and longevity, so you don't have to worry about repairs and a lot of maintenance in the process of having a pool.
Luckily, pool coping is quite affordable compared to other projects, such as pool deck resurfacing. There are many options available, so you can choose a design and alternative that goes well with the current style or a new one you want to be placed, and you won't have to worry about constantly replacing it as long as the materials and installation are over the "good" mark.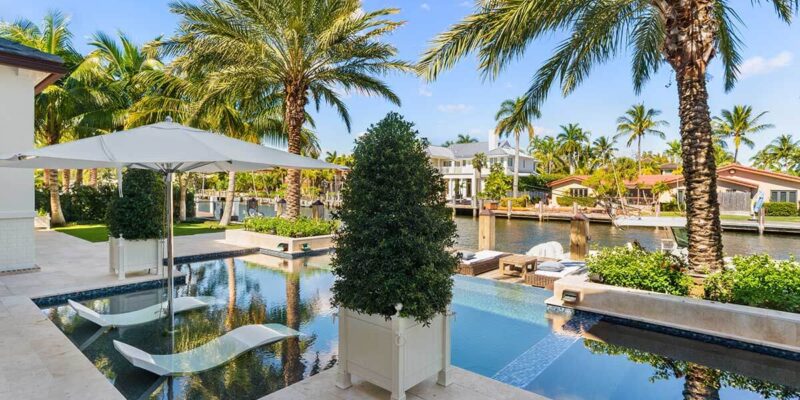 Is Pool Coping for New or Old Pools?
If you are referring to specific projects and pools based on their construction and installation time, you must know that pool coping is just part of the entire process of having a pool. In other words, it is for both.
Pool coping is always installed when building the pool itself, but the type of coping used is what tends to vary in all this. some contractors don't use high-quality options as this can add to the total price, and what many clients need is the final result. They will later worry about the additions or replacements needed.
The type of coping used for your pool is often determined when you are starting to build it and have the contractors do it. Ideally, they should let us know if it is of poor quality, regular, or high since it is common for affordable projects to go for the first option on the list.
In our case, we always use high-quality coping and materials, which means that if we were the ones installing a new one for a new pool or maybe replaced and installed it after a few years of your existing one, it shouldn't give you any problems and instead, last for many years.
When requesting our services, make sure to let us know what project you have in your hands. Ideally, the contractors dealing with the entire pool construction can also handle the coping. However, we can offer individual services in case you want us to deliver the best products and installation that will be affordable and won't cost you a fortune when it shouldn't.
You will have the shell of your pool looking stunning, and it won't be damaged easily. You will prevent it from separating, and the water that comes out of the pool won't get behind it, which will prevent any moisture. All the water will flow away from the pool and instead go directly to the drains installed around your pool area.
How Many Types of Pool Coping Are There?
One of the beauties of this option and part of the pool alone is that it comes in many styles, designs, and materials.
You can opt for the popular natural stone that brings different textures and colors, and you will get a different type or design based on the specific stone you choose for your coping. Although stones are often considered expensive, they are in different ranges, and, in our company, we do our best to offer affordable prices without sacrificing the materials' quality.
Brick, travertine, tile, and your regular concrete are the other options, which are what most people use for the pool deck itself and to get a surface that is non-slippery and quite durable due to the heat and conditions in Palm Beach.
In the case of these options, bricks are the most popular due to their price, durability, and the specific elegant and modern designs you can obtain with them when the installation is done properly. You can have a coping that will last for over ten years easily.
This doesn't mean that the others are bad options. Travertine, for instance, is one of the most affordable choices, while tiles are the classic look many homeowners like for their outdoor space and pool area.
With concrete, you always have a choice regardless of the type of design and style you are aiming for. You get to work with other materials in the process, and the maintenance is very low, similar to travertine and bricks as well.
Our team will help you choose the most suitable pool coping for your property , ensureyou can afford it ,and be happy with the final result. You won't have problems with your outline and, instead, have a pool that will last for many decades.
Below is our list of additional services: