Pool Plastering Services for Palm Beach Residents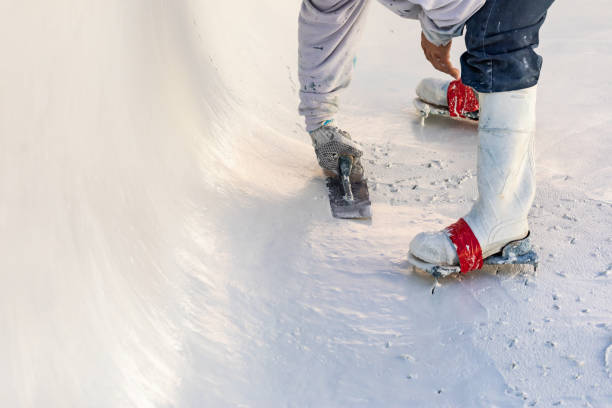 There are several steps in building a pool. Inspecting the space, designing the structure, planning the process, and performing the service. In between, you will realize more parts add to it to get the result you expect from the project. One of them that can never be overlooked is pool plastering. It isn't only to complete or finish your aesthetics and designs but to ensure your pool's durability and longevity. You can think about it as the final step for your pool.
SoFlo Pool Decks and Pavers of Palm Beach is a top company that can handle this step for you. Our contractors can do it whether we help you with new construction or if a new coat is needed. After all, plastering the pool is needed every certain year. This way, you don't have to worry about its condition or shape and how it continues performing on your property.
You ought to remember that you can change your plastering or the design you choose. Plastering adds a coat that changes colors, designs, and textures. Although it has limitations and won't act as a full resurfacing project, it complements every part of the pool.
If you have questions about the service or you're trying to decide if this is what you need, there are some considerations we can help you review. First, are you considering it to enhance your pool's aesthetics? Or are you trying to increase its strength and durability? Depending on the answer to these questions, you can have a 'yes' or 'no' from our team focused on the best option to achieve your vision.
Pool plastering isn't always required when you are repairing and remodeling. Unless you are trying to achieve a brand-new pool or enhance its durability, it isn't usually required. Of course, everyone has different needs, and this is where we start: helping you decide if you need it or not.
We will review your pool and see if the plastering you're requesting is what you need. If so, we will start planning on the design and how it improves and enhances your pool. If it isn't, we give you the actual solution to your problem or to achieve the final result for the project in your hands.
Do We Only Do Plastering for New Construction Projects?
---
Not at all. Although it is needed during the construction of brand-new pools, we can also re-plaster your existing pool. This is done to improve your feature's strength and durability. It also opens the option to have a new finish depending on the materials and specific method of re-plastering used by our team.
We don't want to assist new pool owners only. We are here to take on any task and ensure the plastering is right. This way, you don't have to worry about your pool constantly but enjoy it.
To achieve a neat and desired result with the finish of the pool, we have to work around how your plaster looks. For instance, you should know that the plastering will vary a bit in how it looks in your pool once applied. Thus, we will show you some samples of how the different finishes and plastering options will look. What we care about the most is how your concrete pool will be sealed and protected.
Plaster can vary a bit in color throughout the pool and your surface happens either for new constructions or existing pools. We guarantee the most even result based on the plastering we are applying. However, we can 100% guarantee your pool's durability and performance from now on once the plaster is cured.
Does Pool Plastering Change Your Pool's Appearance?
---
Absolutely. You can experience and get different looks depending on the class or type of pool plaster you use. Our company focuses on using the main ones since they are affordable, durable, and offer the usual designs and results.
However, if you have a particular preference for a type of plaster, we get it for you and work with it. Meanwhile, you can choose between white, aggregate, and pebbled from our choices.
The white pool plaster is the most requested in Palm Beach due to its shiny, classy, and smooth look. What influences choosing it, the most is the price. You can save hundreds of dollars in pool plastering when going for the white option as the materials and technique used don't have any special process. It will be as difficult as others in terms of getting the plaster done. However, you don't incur additional expenses due to the type of plaster you have.
We highly recommend this finish when you want a simple yet elegant result. It is also easy to maintain, and re-plastering it in the future will be affordable.
The aggregate option is more for those in love with a bit of stone. You will have the usual finish for the pool but with small pieces of stone added. The stone you have varies depending on what you like and the final finish you're looking for.
At SoFlo Pool Decks and Pavers of Palm Beach, we work with granite, glass, river stones, and quartz. Custom options can be considered based on the project and what you request.
Finally, the pebbled plaster is unique in texture. You won't have a smooth look but rather a texturized option. The beauty of this plaster is that you don't feel the texture. You create the illusion and get a stunning result.
You can choose any type, and we will work with it. If you're unsure which one is better, we help you with the selection and decision-making.
Just make sure to take the first step in contacting us. We will introduce you to this and more properly for all pool plastering in your area. This way, you know what you're getting and how it should be done, and you rely on our team for any future re-plastering once we finish the first one.
Below is our list of additional services: