SoFlo Pool Decks and Pavers of Palm Beach Services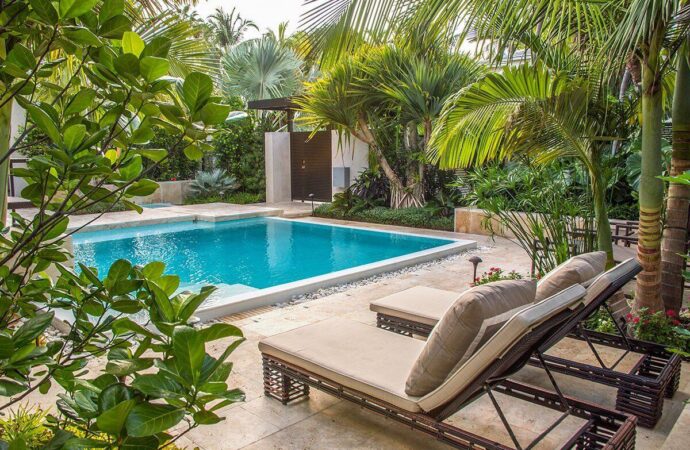 For pool deck resurfacing, various materials and options are available. This is one of the reasons why homeowners and commercial owners have a hard time making a choice. They must consider multiple surfaces and still focus on their budget and desired design. The selection process alone can be a hassle. This is why our SoFlo Pool Decks and Pavers of Palm Beach team loves lending a hand. We are here with all the different materials and types you should consider.
How are we confident that what we offer for deck resurfacing is what you need? Because we only provide resurfacing around options that meet the non-slippery and heat resistance requirements. Although some clients and pool owners have to reach out to request specific materials, we didn't take their projects. The reason lies in how they wanted to work with other surfaces that cannot guarantee safety. What we do here is more than just giving you a new surface for your pool deck. We want to ensure you can enjoy the experience and feel like your investment was well worth it.
This is why we also focus on providing more than a solution. Besides reaching out for resurfacing, expect our team to support you with any repairs. We can take on small cracks or resurface due to all the damage. After inspecting your pool deck or the pool itself, we will know what to do. To access our services, you must take the first step of contacting us.
Being able to offer a wide variety of services in the pool deck resurfacing area can prove to be a challenge for many professionals. This is why you need to pay attention to their experience and qualifications as having more services and solutions to choose from often means two things: they either do it to get more clients but don't know how to do all of them, or they are actually trying to bring all the services you need. At SoFlo Pool Decks and Pavers of Palm Beach, we are the latter, and we're happy to be there to offer a wide variety of solutions that will be performed and delivered by qualified contractors and experts who know what they're doing and will be using top quality materials and tools to ensure you're happy and satisfied with the result.
Now, for pool deck resurfacing, repairs, and maintenance are the most common services to deliver and requested in the industry, which is quite normal considering that resurfacing itself is needed in order to repair cracks or deal with some damage in the pool deck or entire area and feature. However, this entire industry involves more than your regular resurfacing.
Installations, remodeling, renovation, and using specific options to improve or enhance your pool deck are available in case you have specific goals with your outdoor feature and need a wide variety of options so you can get the desired result.
Our team is capable of handling anything you need. Installing diamond brite, travertine, or working on remodeling your entire pool deck. It is just about requesting the service that fits your needs and allowing us to go over the details so we can satisfy you in every possible way.
That being said, we also have several options for those who don't know what they need. We understand it can be difficult to determine what you need or want for your pool deck, so we listen to your request and problems, and help you determine the ebst approach for them.
It is possible to have our team simply assess your space and get all the assistance you need. Thus, don't feel ashamed nor hesitate to have us working in the general result and need you have. Our goal is to ensure you are happy and for it, we need to be able to find solutions to your problems.
A Closer Look at Our Services
---
If you are questioning what we're capable of doing or just need a closer look at our capabilities and services we have available, you can just have an idea and learn more about our solutions below:
Contact our team for more information about each service or let us know what you need right away. We will be more than happy to help with anything you may need.  
Below is our list of additional services: