Pool Deck Brick Paver Services for Palm Beach Residents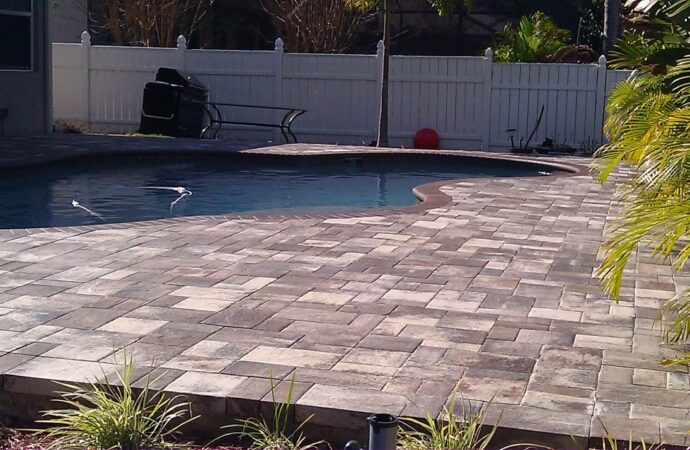 You will love going for pool deck brick pavers as long as they are well-installed. At SoFlo Pool Decks and Pavers of Palm Beach, we understand owners' hesitation to choose them. As most contractors don't worry about the non-slippery properties needed or the right installation, pavers aren't the most popular. However, if you want the aesthetics, we give you the safety and durability they can offer, thanks to our experienced and qualified team.
Brick pavers have been challenging for most companies over the past ten years. They don't know how to work with the usual material or how to guarantee longevity. All this without sacrificing aesthetics and the final design. Most find the solution by charging more for the most expensive products. Some others focus on how they can keep improving but rarely achieve the desired result. This brings a problem to you, the client trying to get a neat and durable result.
We have been in this industry for over two decades. We know how to deliver the best deck resurfacing results thanks to our experience, materials, products, and equipment. This includes what we achieve for you with brick pavers. All you have to do is let us know how we can help with the design and what you're trying to achieve. Once done, expect our contractors to work around the request and get the design and durability you want for your deck. You won't have to worry about any step. Instead, just wait to make the final decisions and see how we get the best outcome.
With all the options available for pool decks, pavers, resurfacing, surfacing, and more, you will have a hard time trying to figure out what's better or not, or what you prefer over other options in the industry. We at SoFlo Pool Decks and Pavers of Palm Beach, we like to recommend pool deck brick pavers as they are often neglected or considered last because pavers are often known for not being the best as non-slippery surfaces or just pieces that fall out of places the wetter they get.
However, everything is about having good installations, services, materials, and professionals who can deliver all in one. You want to make sure that the contractors you hire for this project or just pool deck and surfacing overall, are actually good at their job and can offer the best results based on experience, skills, and qualifications.
Our team has over 15 years of experience working in this industry and brick pavers are not rare for us. We know how to make sure that the area around your swimming pool is stunning, durable, and long-lasting. All in one and without sacrificing one over the other.
The key of our great results and services lies in the types of materials we use, our contractors' experience, and how we focus on what you want and need at the same time. Although most people believe that the highest quality materials aren't always necessary when the client can't afford it, we believe otherwise since it is the starting point of ensuring a good result.
This is why we work hard to offer great services while materials and final costs are affordable thanks to the partnerships we have built and the effort we have put in finding the best alternatives for you and all residents and owners in Palm Beach.
With this in mind, have you ever considered brick pavers for your pool deck? We know most people consider concrete or travertine over everything else, but it is worth it taking the time to go over this option as well.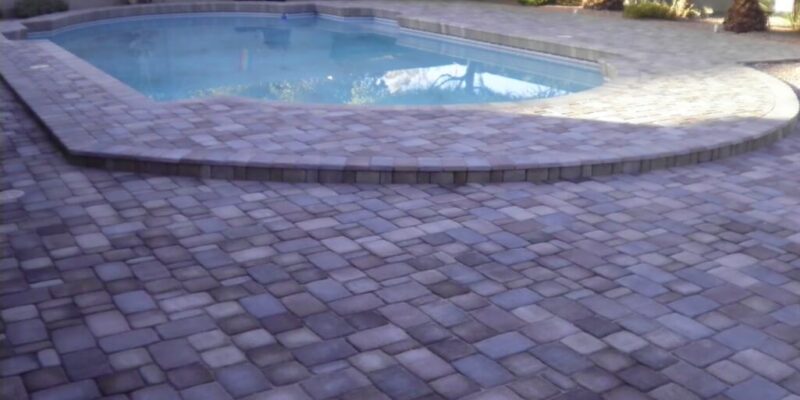 What Makes Brick Pavers Outstanding?
If you focus on all the benefits and characteristics, the aesthetical part is what tends to attract most people.
You can have a unique design and style when working with this option as it brings the regular and traditional design of bricks, but less ordinary and more extraordinary as the specific pavers used for this are made for swimming pools and the specific characteristics and benefits it should bring based on the area they are installed.
They come in multiple colors and can provide different looks based on how they are installed, the color you choose, and how you want to approach the project. The best part in our experience is how you can have a durable surface that won't fade nor lose its color over the years.
When done right, brick pavers for pool decks can last over a decade and we will make sure that the installation and entire process is smooth so you don't have to worry about repairs and frequent maintenance.
If you need a few reasons to choose them over other options such as the regular yet stunning concrete resurfacing, or maybe the travertine option, here is a list of what you can expect thanks to our services as well:
You have several colors and varieties to choose from. You won't have to worry about sticking with a design or style since the colors can help have different results even though it is the same type of paver and material.

You can get a classy and sophisticated look, which is usually welcomed in commercial properties and also residential pool decks where owners love the traditional design.

You won't have to deal with dirt or regular spills as often as with other surfaces. Since it is super absorbent, you won't have a wet but rather dry surface, which prevents more dirt from being on the surface, and you get a safe result for everyone in the space.

Low maintenance is a benefit you cannot ignore as you save time and effort when choosing it.

Common cleaning like brushing the area will be enough, while fixing or repairing some spaces and pavers is simple as just replacing the piece or removing the specific one from the damaged area will be enough.
How Much Will It Cost to Put Brick Pavers?
Considering costs or prices, pool deck brick pavers will usually be more expensive than options such as cool deck or maybe concrete itself. The square foot can range between $5 to $40, but everything depends on the type of the paver, the brand, quality, and who is offering the service.
SoFlo Pool Decks and Pavers of Palm Beach offers a wide variety that ensures you are able to afford the project and still get a durable and stunning result. We worry about how you can finance the project and get the most out of your money.
Keep in mind that you have to focus on the style you want, color, and how you need us to approach this project. Of course, we will guide and support you as needed so you can make the right decisions and won't feel confused about all the details and choices.
With this in mind, we will need to know your pool deck's size and how much work it entails when it is part of resurfacing and not installing the brick pavers from the very beginning—having our team design the space for the first time.
We will measure it, work on the assessment of the space, and give you a quote that includes all details. If you are not allowed or don't feel comfortable giving us access to your space, you can provide all the details we request or as many as possible so our team can consider the amount of work, request, and provide an estimate that will be quite close to the final price once we get the chance to see your deck and come up with the final cost.
Below is our list of additional services: