Pool Sun Bench Installation Services for Palm Beach Residents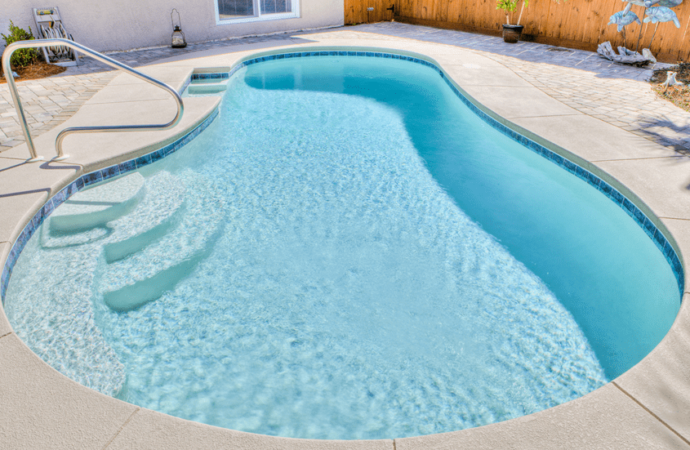 Adding new features to your pool is always a great idea. It helps you bring a new design or style without having to spend many resources. The feature you can go for is a pool sun bench installation that can make the experience more enjoyable and unique. However, the installation must be done properly, with the design for the pool you're working with. At SoFlo Pool Decks and Pavers of Palm Beach, we can help you with the entire process and ensure you have a clean result. For it, we will go over your needs and request and how we can make the bench unique.
If you want to enhance your pool, adding the sun bench will do the job, plus bring comfort to all users of the space. If you're not fully familiar with the feature, it is the regular place you sit. The difference in doing it for a pool is how it is built and the specific materials used for it. The size and where it is installed specifically vary as well.
In most cases, we have installed one of those benches on the entry steps. Some others are placed at the side of the pool for enjoyment. You can choose the location based on your pool's design and what is more comfortable.
With this in mind, is adding it to your pool a good idea?
Most pool sun benches are functional; if you follow the name, it is a bit for enjoying the sun. They don't have to have more purposes besides having a space to sit inside the pool, but they can certainly be designed for more.
We always recommend thinking carefully about how you want your pool to look and why. Consider the different uses you will give the sun benches and how we will work with you to make it possible.
Can You Install Pool Sun Benches in Every Pool?
---
In over 90% of them, yes. Installing the bench when you know how to work with the materials isn't that difficult. Which need to be aligned with the specific type of pool and surfacing you have.
Determining if adding the bench won't damage the pool is crucial. This goes before anything else regarding designs and whether it is possible to get the feature. Once we are finished with this step, we proceed to see how we can customize the feature and if the pool can handle it. If so, we will bring up a plan for it.
You don't have to worry if you are worried about your pool not allowing a sun bench. Most granite, fiberglass, vinyl, and painted pools can get the bench installed. The limitations for each will mostly vary in the size of the feature and how it can be added to the pool.
Remember that your pool's size matters in planning and what needs to be done. Otherwise, you won't be able to come up with the right size and type of bench, including the design and longevity offered by the structure.
Our company has installed those benches for most modern and luxury pools. This is due to how they blend well with the edges and specific styles. For instance, an infinity edge pool benefits greatly. You barely notice the edges of the bench itself and get to keep the design clean. All this while having your next feature to sit and enjoy.
How Large Can the Pool Sun Bench Be?
---
As long as you want it to. Some designs and requests that come to our company focus on small features. They only take a corner, the steps to enter the pool or part of the edge to the sides.
However, if you want to install a pool bench along the length of the pool, it is possible for our team. We will work on preparing the edge and the entire size of the water feature. Then, focus on how we can make it neat and clean so you don't have problems with the final finish and how it can affect the structure.
We often recommend going for the entire length when you have a commercial pool or luxury one. If you have lap pools or very large features, you also want to opt for them. This will allow people to sit, relax, pause, and have some sun while enjoying the water.
Depending on how the final bench is designed, the process will take more or less time. We will do our best to bring a specific style so you can decide whether it is what you want or not. If it isn't, we start over until you are happy with the option.
Keep in mind that our team considers your budget and we will determine how much you can afford the project. If you cannot go for a very long bench, we work with you to ensure you get a better size and fit for your needs.
Make Sure You Have the Right Number of Benches
---
Having a sun bench is amazing. Having multiple ones? Not so much in most cases.
Feeling your pool with benches isn't a good idea when you have limited space or really want to enhance users' experience. You need space to extend the time you spend, swim comfortably, and more. You cannot usually do this unless you have the entire surface, including the edges, for yourself.
We will ask you everything about how you want and need the pool. How many people will use it, consider its size, and focus on how many benches could be installed. Once done and you agree with the number, we start working on the project.
Contact us today to have our contractors visit your pool and help you with decision-making. We will also inspect the pool and give you an estimate around your request. We would love to make that pool sun benches installations possible and affordable.
Below is our list of additional services: