Cool Deck (Kool Decking) Services for Palm Beach Residents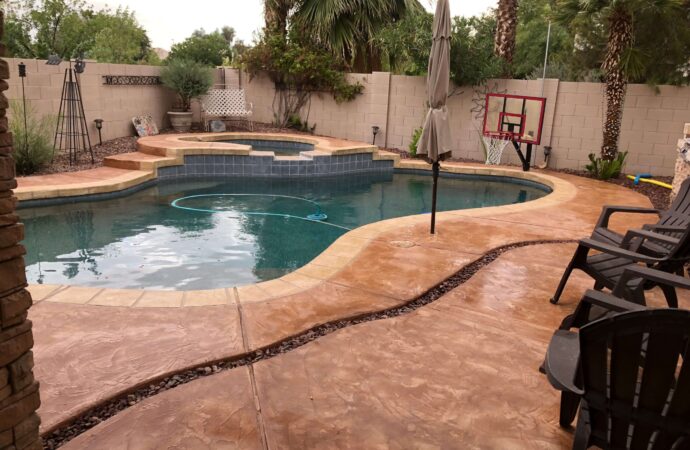 Resurfacing your pool deck takes more work and time than you think. And this is not completely related to how long it takes to perform the resurfacing alone. Choosing the right materials and coat type needs to be thought through thoughtfully. Otherwise, you will have to resurface it again or deal with a poor result for months or years. At SoFlo Pool Decks and Pavers of Palm Beach, we aim to help you choose the most suitable space. Among them, cool deck or kool decking is an option you must consider when looking for quality and aesthetics.
The beauty of this coat and resurfacing option lies in the additional non-slippery quality. You can have a safer deck for children or people in general. But without paying the fortune of using other materials. This is why we highly recommend it for both residential and commercial owners. You can get a surface that is safe, durable, and can fit into most budgets. Of course, depending on the project you have in mind and how you approach the resurfacing.
Our team is here to explain every cool deck property and how you can have it installed with us. We will work hard to provide the best materials and products so quality is guaranteed from the beginning. Then, with our contractors' support, you get a neat and stunning pool deck that will last over a decade. All your satisfaction and happiness are what each team member will aim for.
When choosing the new coat for your pool deck, you need to think about how you want a non-slippery surface and one that can last for years with little maintenance and few repairs, or almost none at all. This is why in Palm Beach, most homeowners and commercial property owners choose cool deck (kool decking) as the new coating for their outdoor space so they can achieve specific results beyond having a new aesthetical look. At SoFlo Pool Decks and Pavers of Palm Beach, we have been helping residents and owners in the area for over a decade with this coating that guarantees a safe and comfortable surface for their pools.
If you're interested in having this cool deck coating for your pool deck, you will need to know more about it to understand the scope of its utility, durability, and entire performance regardless of the size of the pool deck where it is installed.
We want to make sure you are satisfied and happy with the type of coating you're adding to your space. Otherwise, you will end up spending more time and resources in something that didn't prove to satisfy all your needs and preferences.
What we want you to know before we dive deeper into the entire concept of kool decking and why it is a good option in Palm Beach, keep in mind that you can have different styles and designs with it, but it isn't the only alternative for resurfacing or pool decks overall. We have many more solutions available and you're free to request them specifically or feel free to have our residential or commercial pool deck resurfacing contractors working on a general project.
What Is Cool Deck & Why Should You Care About It?
The main problem when choosing your pool deck's surface or just working in your outdoor space's design is that most options in the industry don't meet certain standards or, to be more specific, are unable to meet all of them at once based on your preferences and needs.
For instance, we know all pool deck owners want an option that is cheap or affordable, can provide safety, and be stunning and durable altogether. There are many variables and aspects to take care of, and we want to make sure you're happy and satisfied with it, but it can be hard to discover the best option yourself.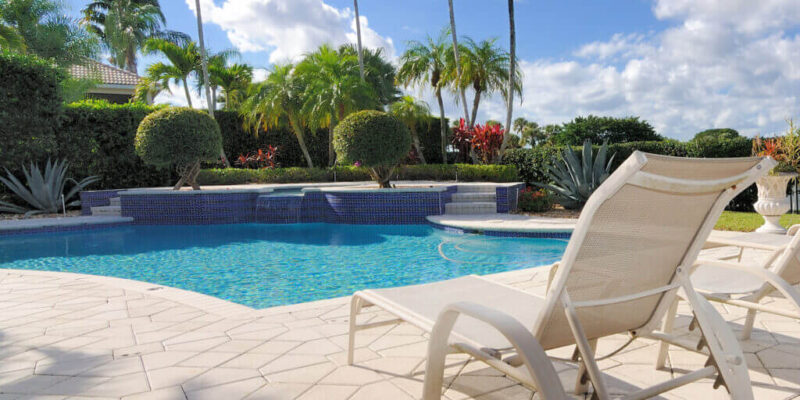 In the case of pool decks, you have two specific priorities when choosing the type of surface and coating: a cold surface and a non-slippery one.
Cool deck comes to play the role of the perfect surface for most homeowners and commercial property owners since it tends to meet all requirements: price, durability, aesthetics, and safety.
You can have kool decking and rest assured that it will last at least 10 years with few repairs and maintenance will be quite rare. You won't have to worry about aesthetics either and you can bet that the cool surface will be the main topic for everyone using the space. The name pretty much gives out this latter benefit.
This type of decking has it pretty much all, and the main reason most people choose other options for surfacing or resurfacing lies in how they want the space to look or their preference for other materials and options in the industry.
Is Kool Decking Only for Resurfacing?
Unlike popular belief, no, it is not. You can actually apply it to both new and existing concrete. In other words, if you have a existing pool deck, we can just apply it as a new coating and ensure you get the benefits and expected results.
However, when it comes to having the entire surface made or built out of cool decking and this overlay, it is also possible and you won't have to worry about being able to bet on this type of surfacing from the very beginning or not.
You can have a stunning, safe, and clean pool deck and its surface regardless of being a new project or not in terms of when the deck was installed or if you need us to handle the very inception of this outdoor space to compliment your pool.
You can get all types of designs and styles that the type of coating offers as long as the surface is properly prepared and cleaned. We need to work around the repairs that need to be done in case this is resurfacing and ensure that applying or installing the new coat won't an issue but rather a new benefit added to your outdoor space.
Leave it to our team at SoFlo Pool Decks and Pavers of Palm Beach so you can have a result that satisfies you, makes you happy, and will bring all the benefits to the table.
How Much Does It Cost to Cool Deck?
If you're worried about the price, you'd love to know that kool decking is one of the cheapest options for resurfacing or just decking. The costs roughly hit the $3 to $5 per square foot and everything will depend on the size of your pool deck and the work that involves installing it.
For resurfacing, it can end up being a bit more expensive due to the repairs, cleaning, and preparations in the surface to ensure the entire process goes smoothly and you have a result that is both stunning and durable.
Meanwhile, you can choose any of the colors available and we will be more than happy to assist you in this process. Don't worry; the color won't increase the cost per square foot unless we have to rely on a different product or brand for the specific color you want.
Feel free to contact us so we can give you a free estimate based on your pool deck's size or allow our team to assess your space to determine the amount of work involved, timeframe, and how much it will cost considering all elements and problems to be dealt with.
We will make sure to work within your budget and guarantee the best result.
Below is our list of additional services: